 Ganguly puzzled at squad exclusion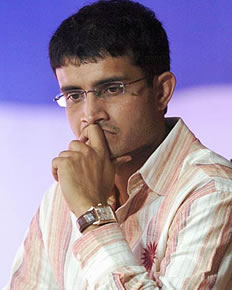 FORMER Indian cricket captain Sourav Ganguly has insisted he's still good enough to feature in the national team despite not being overlooked once again for India's forthcoming Champions Trophy.
Ganguly, who has not played for India since a public spate with coach Greg Chappell this February said there had to be something "wrong" with his omission from the squad.
He was omitted from the Champions Trophy squad despite being named in a preliminary 30-man squad.
"It hurts, it does hurt to be out of the team," Ganguly told CNN-IBN. "I still feel I am good enough and that's the way it is. There must be something wrong which has kept me out."
Many have pointed to coach Greg Chappell as the reason why Ganguly has been left out in the wilderness.
The duo fell out earlier this year with Chappell telling the Board of Cricket Control in India that Ganguly was a "disruptive influence" in a leaked e-mail.
"It is difficult for me to pinpoint any particular reason but the bottom line is that I am out of the team for whatever reasons and that's what matters," said Ganguly who remains India's most successful Test captain with 21 wins
"I have just played two games in the last 12 months for India. Obviously when I am not a part of the team, somebody does not want you to be in the team and that could be anybody. The captain, coach, selectors, everybody is involved so it's very difficult to pinpoint any particular person."
Ganguly said that to be out on the sidelines was tough. "Obviously I feel sad because this is a team you have commanded for long," Ganguly told Press Trust of India. "Eleven years and captaining India in more than 50 Tests and a large number of ODIs, you will miss cricket because there are players of your age, around 33-34, and playing decent cricket. So you want to be a part of it."
Ganguly also dismissed suggestions that he would hang his boots after World Cup 2007.
"Why should I retire? I am still 33, I still am at an age where I have a lot of cricket in me. If I perform I will be there."