What started off as a social media page last year on Instagram called Muslim Hikers to help create the struggles of isolation gained so much interest from the community.
Haroon Mota, Head of Challenge Events set up a page called Muslim Hikers during lockdown and received so many messages.
It's has now become a global online community and hundreds of people across the UK meet up to get active outdoors together.
But on Christmas Day pictures of their big hike in the Peak District were posted on social media and received abusive comments.
Haroon says it won't stop them and "the true spirit of the [hiking] community" has been "overwhelming". 'There are barriers for getting outside'
People from all backgrounds are welcome to join Muslim Hikers, Haroon set it up to provide support for lonely people after lockdown.
He says not enough people from Muslim backgrounds enjoy outdoor recreation, because of different "lifestyle and cultural norms".
"For me, for example, growing up, I never had the experience of visiting national parks and going hiking," says Haroon.
Around 130 people joined the early morning hike for a few hours on Christmas Day, including support groups of divorced women who were left during the pandemic.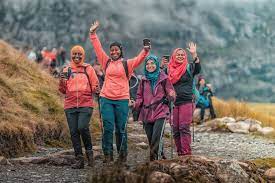 The walk was planned as a winter hike and the group were welcomed by people they passed in the countryside.
When pictured were posted from the day on Facebook, some comments suggested they were not "proper walkers" and a group so large would damage the trails and the ecosystem.
There were many positive comments who were supportive but the pictures which were shared on another walking group attracted some criticism.
"I've always felt very welcome outdoors," says Haroon, "but it is not a coincidence that we are most underrepresented when it comes to sport and physical activity.
"I think it's so important to try and help understand what the barriers are for our community, then do more to try and get ourselves outside."
He says there's a "sense of security" that people feel when in the group.
"We just weren't expecting all of these unpleasant comments. Of course the majority were supportive, but there was a huge accumulation of derogatory comments.
"It can be quite detrimental and deterring."
Haroon says it's worst for people travelling for the first time.
"We're subjected to these comments online, but they do and can happen in person as well.
"There are already perceptions of the outdoors being a white domain which is unwelcoming.
"There's been many documented reports of people wearing a hijab and or men in traditional attire being subjected to unkind comments and racist slurs."
Muslim Hikers are planning another big walk when the weather improves.