Magic Bus – one of India's top five education charities – asks for support in it's drive for securing high quality education and work for hundreds of thousands of girls across India, Bangladesh and Nepal.
 The UK and India enjoy a special relationship, with profound ties of culture, history and language. Although the legacy of the colonial era is complex, the priorities, sympathies and values of the two nations today are increasingly aligned. And it is through this relationship that the award-winning international development charity – Magic Bus – was formed by Matthew Spacie MBE, back in 1999.
Today the charity uses sport, play and mentoring to keep children in education, prevent child marriage, and ultimately help young people secure successful employment, and works with a staggering 400,000 vulnerable young women, girls and children across India and South-East Asia every year. But this isn't enough.
Still over 30% of the world's poorest children live in India. This means there are more than 115 million children and young people facing extreme poverty, every day of their lives. We know that amongst these children:
40% of girls aged 15-18 are out of school
There are over 15 million child brides: the highest in the world
There are over 80 million unemployed young people – 23% of the 15-29 population.
"Sometimes girls as young as 12 years old are forced into marriages that will trap them in poverty forever. This was almost my fate too." Savitri, a Magic Bus programme graduate, shares her story:
"My Maa had grown up in a family where marrying off their children before the age of 15 was considered normal. She was the only source of income for our family – as my father had passed away when I was just 6 months old – and with an income of around only £50 a month to support herself, my five sisters and I, in our crowded one-bedroom house in Timarpur, my Maa could see only one solution. Two of my older sisters were forced into marriage by the time they turned 15 and became mothers themselves not long after. When I turned 14, it was my turn, and Maa began searching for a groom for me. At the time, I'd have done anything to avoid this, but I had no other option."
"But then Magic Bus arrived in my community, and my fate began to change. It wasn't easy at first. My Maa and other parents within the community resisted sending their daughters to Magic Bus' sessions, arguing it was unsafe or inappropriate for girls to be stepping out of the home to play with boys. Arun, a local Magic Bus volunteer spoke with Maa one-on-one to try and convince her, and I still remember her response today:
"Son, we can barely make ends meet. Education is not meant for us. I will marry her off and then let her new family decide if they want her to continue studying further or not."
Luckily for me, Arun and Magic Bus didn't give up. It took weeks of interaction to convince my Maa that I could start taking part. I was so happy! I knew this was the start, that with Magic Bus' help I could start to build a future for myself. It's thanks to Magic Bus that I have the confidence to stand up for myself and dismiss the idea of child marriage.
I'm one of the lucky few. Thousands more girls just like me are being forced into marriage early, into a potential life of spiralling abuse, teenage pregnancy, and poverty."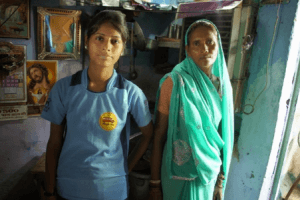 For girls like Savatri and her siblings, support from organisations like Magic Bus is vital. Only 5% of Magic Bus girls drop out of education, 97% are free of child marriage, and over 70% find successful, salaried work.
Whilst much of this work is funded in India, we need help from individuals and organisations in the UK who can help raise awareness of our cause, influence action, and introduce us to new networks and communities across the nation. It is only with this help that we will be able to grow, maintain our work and deliver lasting change.
Join us as a supporter and give young women, girls and children the chance to secure a prosperous future.
A one-off donation of £5 helps us to provide play equipment and resources to for a weekly session in a community across India.
£10 per month enables us to keep six young children in school each month, keeping them engaged through our exciting play sessions with subtle messaging around the importance of education.
A relationship with your family, friends, network or business could help us to deliver lasting change in a community close to your heart and grow our work to benefit more young people across South East Asia.
"Today, I'm a Magic Bus Community Youth Leader, volunteering to help boys and girls join the Magic Bus programme so that they can create a brighter future for themselves. I don't worry about having my future stolen from me, instead I dream of becoming a police officer, so that I can help protect women and girls in my community. That's thanks to Magic Bus, but will you help more girls who are at risk like I was?"
Join the fight and support Magic Bus' campaign by donating at https://magicbusuk.org/donate/