A Wolverhampton Labour Councillor pays tribute to her hero US deputy sheriff brother Sandeep Dhaliwal who was killed on duty in Texas.
The death of "trailblazing" deputy sheriff has sparked an outpouring of grief in America and left his family devastated.
Tributes have been pouring in for Sandeep Dhaliwal, 41, who was shot during a routine traffic stop on Friday.
His sister, Rupinderjit Kaur,37, is a Labour councillor for the Spring Vale ward.
The father-of-three made history as the first Sikh to become a sheriff's deputy in Harris County, Texas, and fought for five years for the right to wear a turban on duty.
Mr Dhaliwal moved to America in 1995 and Ms Kaur to the UK in 2003. She has been based in Wolverhampton since 2013 and became a councillor two years later.
The councillor said she was proud of her brother for doing his duty despite the challenges he faced in Texas.
Councillor Kaur said her family had always feared her brother's job could put him in danger, especially because of much-publicised problems with gun crime and racism in America's south.
But she said she was proud of him for following his dream of becoming a police officer, despite the challenges of being a Sikh in Texas.
Councillor Kaur said: "When he said he was joining the police force we were scared but at the same time we were proud of his decision and supported him."
Sandeep, was shot in the head near Houston on Friday after a routine traffic stop turned deadly.
Ms Kaur said he had pulled the driver over for failing to stop at a stop sign. After speaking with the driver, he was returning to his vehicle when he was shot and killed.
Mr Dhaliwal's death has sparked an outpouring of emotion in the state. A "community-led" candlelit vigil was held on Saturday.
Thousands of people from all walks of life including police officers, Sikh believers, Indian-Americans and Houston-area residents turned out for the day-long ceremonies to honour slain police office Sandeeo Singh Dhaliwal.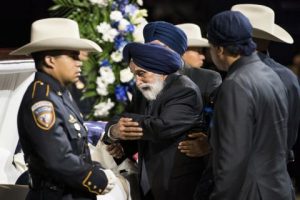 Harris County sheriff Ed Gonzalez said Deputy Dhaliwal "was a hero, he was a respected member of the community and he was a trailblazer".
Houston mayor Sylvester Turner said he was a "bold and groundbreaking law enforcement officer in the eyes of our county, our state, our nation, and around the world, because he sought and received permission to patrol while wearing the outward signs of his Sikh faith, including a turban and beard".
Mr Gonzalez also spoke of the waves of community support while he was out on a night shift on Wednesday.
A memorial service will be held on Saturday at Guru Nanak Gurdwara on Sedgley Street, , Wolverhampton, starting at 3pm, and all are invited.