The journey to crown two women concluded
Two women walked away with the Mrs World Punjaban UK 2019 crowned at the presidious Grand Finale organised by Channel Punjab Shaan Punjab Di
Ravneet Kaur from Leicester won the over 35 year old category and for the under 35 year old category was Shalini Gulati.  The first runner ups were Kameljeet Kaur Sembhi and Amardeep Kaur. Second runner ups were Nisha Chohan and another Amardeep Kaur from Newcastle.
Mrs World Punjaban UK was a concept of Channel Punjab Shaan Punjab Di, the first crowning was in Patiala Punjab and the second in Dubai. Over the past three months fifteen finalists have preformed individual and group tasks, these will all be culminated together and form the first Punjabi reality show. Which will be aired on Channel Punjab now available internationally via YouTube.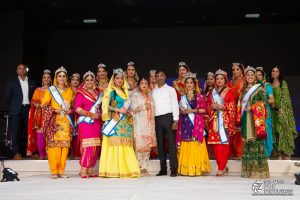 " I am really proud to be awarded the prestigious honour of becoming Mrs World Punjaban UK 2019. I feel empowered and would really like to reach out to as many people as possible not just nationally but internationally, I feel nothing is impossible with hard work, dedication and determination. Punjabis are great and together we can make a real difference to our world. I want to promote my rich and colourful Punjabi culture and show that women are strong and capable of achieving anything if they put their mind, heart and soul into it.
I want to use this achievement to help, support and inspire others to fulfil their dreams" said Ravneet Kaur Mrs World Punjaban UK 2019. Ravneet was crowned by The Cake Shop, "This has been an incredible journey and one we are very proud to sponsor, this type of thing allows us to keep our culture and heritage alive" said Bill Aulakh.
Shalini Gulati said "I am on cloud nine, my dream has come true. I am a proud housewife, which sometimes somehow, stop you thinking about yourself. You may not believe this but winning a crown has been my childhood dream. Royalty and grace are embedded in the crown. I love children and my focus will be on children, that they should know our Punjabi language not only speaking but reading and writing as well. This will allow our rich culture and heritage to survive and flourish .  I believe often Punjabi's are known for their helpful nature and helping others I want all children to increase and build this gift, children are our future".
"With extreme attention to detail meticulous planning the Sunday 29th of September 2019 date was upon us for The Grand Finale of Mrs World Punjaban UK 2019 at The Willows and what a day it was, a full house you could sense the excitement and emotions right from the start and for the crowning the atmosphere was absolutely electrifying
As the headline partners we were very excited and looked forward to working together with all of the Channel Punjab Team in hosting the Mrs. World Punjaban UK 2019 competition
From all of us at The Willows we would like to congratulate all the contestants that took part in this year's "Mrs World Punjaban 2019" and Congratulations to the Winners.
It was a pleasure working with Hosts of the event Channel Punjab, they put on a great spectacular show that had great entertainment from start to finish and it was great to see the Punjabi culture is still alive and kicking and it was a pleasure holding the event at the Willows" said Amrick Chattu, Sales Manager at The Willows Hall, Willenhall.
The opening act was a melody of songs sung by Jasbir Singh Wohura Managing Director of East End Foods PLC, He said "I must thank and congratulate Channel Panjab and the whole organisation who worked tirelessly to achieve their goal. it was a great achievement for the housewives and their families and gives a prominent place to women in our modern society. There were few little hitches but whenever anyone does  such an event it gives lessons to improve things for the  next time. overall it was very impressive effort and we will give more support for such causes in the future"
The Hosts were Sukhi Batth and Neetu Singh who said "What a great thought  Channel Punjab had to create such a platform for all those women, who are married, divorced, widows. It was great achievement for those housewives. Through my journey with Mrs world Punjaban UK 2019 Shaan Punjab di, I met amazing people"
"Congratulations to Channel Panjab for celebrating the Mrs of this world. The ladies in our lives who work soo hard as mums, wives, daughter-in-laws and so so much more and do it all with a smile. Congratulations to all the contestants. They were fabulous. And a huge well done to all the family members who came to support them. I could see the little children so so proud of their mums on stage" added Sukhi.
The day was started by the contestants doing a Catwalk, many of them had never done such a thing let alone walked a 'Cat Walk' in front of 0ver 400 guests
"It was an excellent event. Judging was challenging but I think just goes to prove the talent of the contestants. Well done Channel Punjab for highlighting to the world the role of females in our society. It was a pleasure working with you all" said Captain Makand Singh MBE for the Army, who was one of the five Judges for the Grand Finale. Dr OpinderJeet Kaur Takhar a Senior Lecturer at Wolverhampton University said "Well done to you all on such a fantastic event"
Mrs Satinder Kaur Taunque OBE DL was also given the challenge of concluding the Judgement process of selecting the six winner from the fifteen contestants "Mrs World Punjaban UK 2019 event was an excellent portrayal of Punjabi Culture with a flavour of Punjabi folk dances, songs, dresses and jewellery. I am so proud of each and every woman who auditioned and took part in this three month extravaganza, empowering and motivating all generations. Congratulations and well done to all contestants and winners."
Balbir Singh Flora MBE, from the Royal Airforce was also invited to Judge and attended the Boot Camp last week which was held at Highfield Community Centre in Birmingham where the contestants were totally taken out of their comfort zones. They were asked to make firelighters from Cow Dung, a practice still used in India.
"It has been a honour and great privilege to play a part in the amazing Mrs. World Punjaban UK 2019 with Channel Punjab, Shaan Punjab Di which for me showcased Punjabi culture through traditional singing, dancing, activities, colourful displays and outfits by all the passionate contestants and production team" said Balbir Singh Flora MBE
Also preforming yesterday was Aman from Punj Gidda Group, they took the stage by storm "I would like to Congratulate the winners and all the finalists at Mrs World Punjaban UK! This was a great opportunity for ladies to come out of their households and do something for themselves, This event is a great inspiration for the remaining ladies out there to encourage them to do something different and for themselves.
I was honoured to be part of this journey with the ladies from the auditions being the auditions judge and their mentor throughout the BOOT CAMP" Aman is part of  Punj Radio, who were one of the sponsors of Mrs World Punjab UK 2019.
Jasbir Singh Derewal, who's brainchild this concept was said " I would like to thank everyone for their support shown and for the kind words on this journey, which would have not been possible without the team and we endeavour to continue this journey of rejuvenating our culture and at the same family values"
The auditions for the next Mrs World Punjaban 2020 are open in Europe, Canada, United States and United Kingdom.