What a season of Cricket it has been with 45 days and 48 matches and England winning the world cup for the first time after beating New Zealand in an emotional and electric atmosphere at The Oval.
This might just be the greatest game in cricket history.
The nation was watching on Sunday 14 July as England won after the most thrilling climax, both teams scored 241 in their 50 overs when they batted for an extra over apiece.
England were crowned world champions by virtue of having scored more boundary fours and sixes in the entire match.
Stokes and Buttler came on to face Trent Boult in the super over and hit 15 from the six pressure balls.
Jofra Archer bowled England's over and sealed the win in super over.
Archer took 20 wickets in the tournament, more than any England bowler at a World Cup.
And finally, having bowled a wide, then been smashed for six to leave New Zealand needing just three off two balls, the 24-year-old kept his composure and only allowed one completed run off each delivery giving England's victory. He had volunteered to bowl the Super Over, the highest-pressure moment in cricket.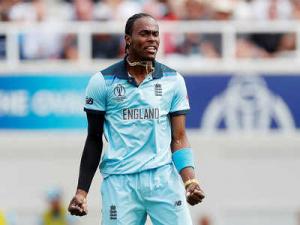 Now, he wants to inspire the next generation of children to play the game.
Archer is determined to inspire kids to follow the game. He said: "I really hope that the kids watching want to play cricket for the whole week, all year, maybe to be professionals.
That's all we want to do, inspire the next generation, because someone is going to have to take over from us.
"England is multicultural. I didn't choose where I was born. All I knew was that my dad lived here, he was born here and that I had an opportunity.
Nearly eight million people tuned in to watch the climax of England's first men's World Cup triumph at Lord's on Sunday.