Friday night saw Birmingham Youth Sports Academy (BYSA) round off an amazing year with a fabulous Gala Dinner held at Aston Villa FC's Holte Suite. The evening highlighted the important work they are doing in the community, working with young people to create a better Birmingham.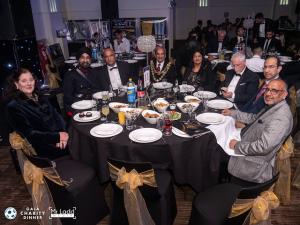 Following on from a multi-award-winning year, more than 500 guests attended the evening and showed their support for an organisation that is working closely with young people in Birmingham. What started off 17 years ago as boys football project by Anwar Khattak, BEM, now has sports for girls, as well as education and mentoring projects for inner-city Birmingham. Their ongoing mission to positively influence the lives of young people has seen thousands of young people graduate through the system since 2002.
The evening was hosted by sports Journalist and TV presenter Manish Basin. The event had a lot of support from the region including the Lord Mayor of Birmingham, Councillor Azim and the West Midlands Mayor, Andy Street. Speaking on the evening, Mr. Street spoke about BYSA in a positive light;
'You're motivating youngsters through sports and mentoring to create role models. I am a firm believer that through sports and teamwork we can learn to make a positive contribution to our community.'
Andy Street, West Midlands Mayor
At a time when there are far too many headlines about knife crime, BYSA work with young people and help them integrate better with society at large. Kieran Quinlan, founder of the PitGym is such a local success story of someone who has overcome adversity and he received the Chairman's Award this year. This message was supported by the entertainment delivered by Aston Performing Arts Academy, a local community interest organisation who highlighted their love of Birmingham and its future.
Former England and Liverpool footballer, John Barnes, MBE, was the after-dinner speaker and he spoke about how organisations like BYSA can create environments through which youth can flourish. Using football analogies, such as how Klopp has transformed Liverpool's fortunes, he talked about how putting kids into the right environments can help them achieve more than society may perceive them to be capable of becoming.
Having received The Queens Award for Voluntary Service last year, it was appropriate that the Queens Toast was delivered by Ninder Johal Deputy Lieutenant for the West Midlands
'BYSA is a fantastic organisation that does so much for the local community and this work has been recognised by The Queens Award for Voluntary Service. I look forward to seeing the organisation continue to grow.'
Ninder Johal, Deputy Lieutenant for the West Midlands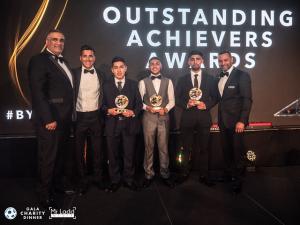 In addition to many awards, BYSA has also signed a number of partnerships this year; TSB have supported education and mentoring projects this year and BYSA has signed the Armed Forces Covenant, which was presented to chairman Amer Awan on the evening by Major Naveed Mohammed MBE.
'It is yet another great night for BYSA and I couldn't be prouder of what we have achieved this year. Our Volunteers give their time for a single purpose, helping kids feel better about themselves and realise their potential and today celebrates their achievements. I would like to thank our many well-wishers, supporters and sponsors who contribute to our continuing success.'
Amer Awan, Chairman, BYSA
The event raised much-needed funds for upcoming projects that in planning for the next 12 months and also raised awareness of how a city such as Birmingham is doing so much great work on the ground.
For more information visit the BYSA website – https://bysa.co.uk/ To get involved as a member, volunteer or sponsor, email us at info@BYSA.co.uk