International Brand Model and Bollywood Actor Honey Jalaf makes his debut in the Punjabi Music industry with Saada Time Aauga.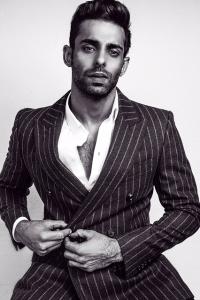 Honey who has worked with leading international brands Coca Cola, Emirates and Nissan has taken a step the in music scene with a Punjabi version of Bollywoods latest hit Aapna Time Aayega from the movie Gully Boy starring Ranveer Singh and Alia Bhatt.
This young talent not only raps, models also has starred in a string of films such as Housefull 3, Dobaara starring with Huma Qureshi, Sat Sri Akal England and also British TV drama Ackley Bridge.
Born in Rurka Kalan, Punjab, India and raised in Punjab, Honey came to the UK on 2010,  studied 3D animations in Movies and went on to taking acting lessons from an acting coach from Los Angeles to perfect his craft. He's gone on to making Youtube comedy videos as well, some of the famous ones are Punjabi Siri, NRI Driving in Punjab.
Honey is excited for his debut  "Saada Time Aauga is  something I just couldn't help myself from making, I love the music the passion the words it was penned so close to my heart I really wanted to make this for the Punjabi crowd, inspire them to carry on with the struggle and thankfully people are loving it so far".
He is already working on his next rap which he is dedicating to all the mothers and begins shooting his 3rd Punjabi film this year. 
DOWNLOAD MP3: https://spaces.hightail.com/receive/75G0QPe8ZT/bmlzaGFAc2FoZGV2bWVkaWEuY29t
YOUTUBE LINK : https://www.youtube.com/edit?video_id=_bbpz16Ayn8&video_referrer=watch