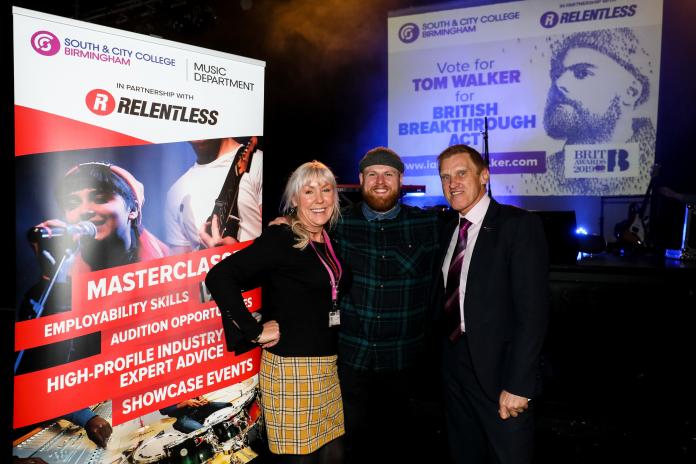 Double-Brit nominee, Tom Walker, gave an exclusive performance at South and City College Birmingham this week to launch an innovative collaboration between the College's music department and Relentless Records.
Hundreds of students and visitors gathered in the College's concert facility in Digbeth to watch him perform.  Tom Walker is currently nominated for two BRIT Awards; British Breakthrough Artist and British Single 'Leave a Light On', which has been in the UK charts for over 40 weeks and 95+ million views on YouTube.
The unique partnership between the College and Relentless Records, part of Sony Music, will give the College's music students multiple opportunities to get a head start in the competitive music industry. Relentless Records are offering students: masterclasses in both London and at the College, by high-profile artists such as DJ, record producer, songwriter and musician Naughty Boy; rapper Headie One and BBC DJ Trevor Nelson, along with other succesful music industry experts. The classes will give insight into all aspects of the music industry from performing to running a record label. Students will have access to experience other aspects of the industry, including marketing and promotion, production, A&R and radio. Top performing students will also have the opportunity to perform at an event in London, in front of top A&R executives, leading to a live event and showcase at Sony Records.
Jacqui Maher, Assistant Principal for Innovation and Development said, "The College is delighted to be in partnership with Relentless Records.  This partnership enhances our students learning and college experience by giving them a true insight into all aspects of the music industry.  The opportunities offered by Relentless Records gives our students an advantage when entering the job market.  We are really excited about working together on this innovitive partnership and look forward to the many successes that it will bring."
Ewan Grant, COO of Relentless Records added, "We as a record company are always on the lookout for new talent and we wanted to partner with likeminded people to find the stars of the future.
When we visited the music department at the College, we saw that the facilities and teaching were second to none and to help us break out of a London centric music scene, we looked to partner with a college that was delivering high quality teaching and learning, alongside excellent results. South & City College was a natural choice.
We are looking forward to building this unique relationship over the coming years and having Tom Walker perform at the College is just the beginning."
To study music at South & City College Birmingham visit www.sccb.ac.uk/music