Saqib Bhatti was installed as the youngest and first Muslim president in the 205-year history of Greater Birmingham Chambers of Commerce (GBCC).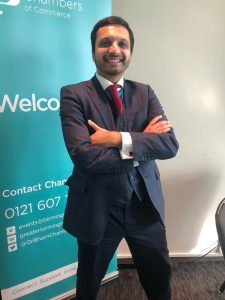 The 33-year-old, a director at accountancy firm Younis Bhatti & Company, succeeded Paul Kehoe at last weeks annual meeting at the Radisson Blu hotel.
Since graduating from London School of Economics and Political Science in 2007 with a Bachelor of Laws degree, Mr Bhatti has immersed himself in striving to promote Birmingham, its people, its businesses and its diversity.
He became a member of the Institute of Asian Businesses (now the Asian Business Chamber of Commerce) and was its president for four years. He is currently director of both the Greater Birmingham and Solihull Local Enterprise Partnership (GBSLEP) and the Westside Business Improvement District, and is also a senior policy adviser to the Alliance of Conservatives and Reformists in Europe.
Mr Bhatti will now be focusing on two themes during his two-year tenure as president of the Chamber.
He said: "As the new president, I have decided on two themes to focus on. As a region we have a trade surplus with China and the United States. Our small and medium businesses, however, are still not exporting enough and the opportunities are out there.
"With GBCC's exceptional international offering and the Asian Business Chamber of Commerce, British American Business Council and the Commonwealth Chamber of Commerce, I believe we are best positioned to start addressing the gap.
"My second focus will be to champion the contribution that our businesses make to the economy and to society. Businesses can be and are a force for good. Too often, however, we are overlooked or worse, vilified as a community when something goes wrong with a minority.
"As the new president of the Chamber of Commerce, I am determined to ensure that our leaders and policymakers recognise the immense contribution that our 3,000-strong membership make to the economy and to not take us for granted.
"To be able to adapt and address the inevitable headwinds, we require support and collaboration.
"The greatest certainty I have is that the Greater Birmingham Chambers of Commerce and its members will be pivotal in us achieving our potential. Of this, I have no doubt."
Outgoing president Paul Kehoe told the meeting via a video link that he "had a ball" during his two-year term and reflected on Mr Bhatti's new presidency.
He said: "Saqib Bhatti will be one of the youngest Chamber presidents in the country and will be, I am sure, a great leader and set an excellent example to his peers on the role that the next generation can play in ensuring that business, trade and commerce remains a force for good across the Greater Birmingham Region.
"It has been my pleasure to serve the Greater Birmingham business community for the last four years as vice-president and president. I have had a ball and it's been a real pleasure to work with some great people – whom are ably led by our chief executive, Paul Faulkner."
The Chamber's strong financial position has allowed it to improve member services through its investment plan, Paul Faulkner said.
He added: "I am delighted that we have again recorded a strong financial performance for the 2017/2018 financial year. The Chamber continues to make surpluses sufficient to fulfil our pension fund obligations and increase our revenue reserves.
"And this has allowed us to improve member services through our Investment Plan. We have deliberately reorganised our operations so that we could de-risk the business going forward by creating income streams that are less dependent on any single element of the business.
"And in tandem with all of this, we have created great policy and communication strategies backed by an amazing events programme, with over 250 taking place during the year.
"Businesses still value the personal contact that takes place through networking at a myriad of events, which is headed by our annual dinner – now THE showpiece of the Birmingham business world.
"I'd like to highlight and thank the amazing team I work with at the Chamber, who strive tirelessly to support our members and make a positive difference every day.
"Welcome also to our new President, Saqib Bhatti.  I've been fortunate to see at close quarters over the past few years what an impressive person and leader Saqib is. His four years as President of the ABCC will certainly stand him in good stead for the next two years, and we are very much looking forward to working closely together and continuing to drive the Chamber forward.
"I'd like to place on record my thanks to our outgoing President, Paul Kehoe.  I feel extremely fortunate and blessed, both from a professional and personal perspective, to have had the opportunity to really get to know Paul well and to work in tandem over the past two years.
"I have learned an incredible amount from him and seen the massively positive impact he has had on the Chamber during his Presidency. It has been a true pleasure working with Paul as our President, and I am delighted that he will be continuing to add his experience and leadership to the Chamber family as a member of our Board."
David Waller, chairman of Greater Birmingham Chambers of Commerce, spoke of his pride in the achievements of the team's performance under the leadership of chief executive Paul Faulkner.
He said: "We have enjoyed another year of continued growth and success in all of our key areas, providing the voice of business in the region, delivering services to members and running an extensive programme of networking events.
"Our annual dinner at the ICC was the largest ever with over with over 1,400 delegates. I am very proud of the Chamber team who, under the leadership of our chief executive Paul Faulkner, has grown our membership, improved our service provision and provided exemplary support to our business membership."
Pictured (l-r): Steve Allen, Saqib Bhatti and Paul Faulkner. 
We caught up with Saqib Bhatti at the Greater Birmingham Chambers of Commerce AGM, have a listen to what he has to say about his new position: