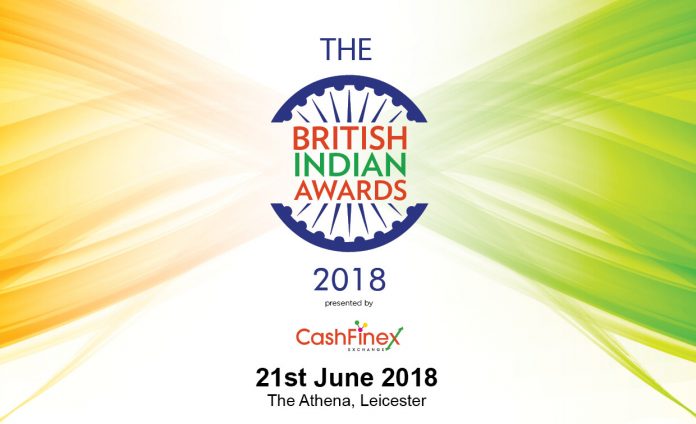 Finalists for the 6th annual British Indian Awards 2018 presented by CashFinex have been revealed after nominations have flooded in from across the country and beyond.
The awards aim to acknowledge and reward the effort of British Indian community across sectors ranging from Entrepreneur of the Year to Best Entertainer with 24 different categories overall this year.
The ceremony is due to be held on the 21st of June at the glamorous Athena in central Leicester and will include a drinks reception, four-course meal and entertainment.
Title sponsors, CashFinex, are an international organisation based in the UK who are responsible for an innovative way in which to make and accept payments, whilst remaining secure and simple to use.
Mohsin Jameel, CEO of Bull InfoTech the company behind CashFinex, said: "We are really pleased to be the title sponsor of the British Indian Awards; the partnership comes at an exciting time for the business. We've just launched our new exchange which gives investors and businesses the opportunity to trade in the cryptocurrencies and forex from a single platform.
"The British Indian Awards provide a perfect stage to reach out to innovators, entrepreneurs and community representatives that the awards aim to recognise."
The event is being run by Oceanic Consulting, the UK's leading ethnic consulting and promotions organisation in the UK, who have recently been shortlisted at the Asian Media Awards 2017 for their work in the Marketing & PR Sector, and are responsible for some of the most successful and well known events in the country such as The English Curry Awards, British Muslim Awards and the English Asian Business Awards amongst others.
Irfan Younis, CEO of Oceanic Consulting said: "The British Indian industry continues to expand and flourish year upon year with many now taking up their profession on a full time basis which is testament to the impact the industry is having to the economy overall."
This awards ceremony is also part of the Diversity Awards group which provides a platform for and celebrates the achievements of ethnic minority communities throughout the UK and is responsible for The British Muslim Awards which has been running for the last six years.
The evening will also help to raise funds for official charity partner, Magic Bus, a charity which provides young people living in poverty with the opportunity to complete their secondary education and develop the skills necessary to transition and succeed in the workplace in an attempt to break the cycle of poverty which these young people often get trapped in.
The finalists for the British Indian Awards 2018 are:
Rising Star Award
Jhumar Johnson (Open University, Milton Kenyes)
Silka Patel (Swit, Glasgow)
Nishma Robb (Google, London)
Ashvinder Bhamra (Judo Pay, London)
Nity Tripathi (Global Hospitalities Services, Romford)
Sheila Nakra (Yellow Globe, Birmingham)
Kavita Sharma (Indo British Investments, Milton Kenyes)
Harpreet Singh (The Gym Group, Croydon)
Alka Shah (Lyca Media, London)
Sanjay Kara (Smart Capital Technology, Stanmore)
Best in Creative Industries
Ravi Harsh and Amit Sharma (Blue Shark Entertainment, Birmingham)
Sonia Randev (Slick Sports Media,London)
Pushpa Alexander ( Headz Up Business Events, Birmingham)
Ekta Bajaj and Monica Sood (Author In Me Ltd, High Wycombe)
Amit Gudka (Bulb Energy, London)
Bobby Singh (Love Your Postcode, Birmingham)
Imran Amed (The Business of Fashion, London)
Best in Science & Technology
Aditya Sadhanala and Darshana Joshi (Vigyanshaala, Cambridge)
Nikita Hari (University of Cambridge, Cambridge)
Shankar Balasubramanian (University of Cambridge, Cambridge)
Pratibha Laxman Gai (University of York, York)
Charanjit Bountra (University Of Oxford, Oxford)
Mahiben Maruthappu (Cera, London)
Suman Saha (Doctify, Camden)
Amit Dave (Optimed, Coventry)
Kamlesh Khunti (University Of Leicester, Leicester)
Surjit Kaila Singh Srai (University College London, London)
Best in Medical
Rohit Sagoo (British Sikh Nurses, London)
Siddhartha Kar (University of Cambridge, Cambridge)
Ramani Moonesinghe (UCL Medical School)
Asha Kasliwal (Faculty of Sexual and Reproductive Healthcare, London)
Raj Aggarwal (Kidney Wales Foundation, Cardiff)
Jayant Vaidya (The Princess Grace Hospital, London)
Charanjit Bountra (University of Oxford, Oxford)
Prasad Rao (Nuffield Health, Shrewsbury)
Rohit Shankar (Cornwall Partnership NHS Foundation Trust, Cornwall)
Seema Srivastava (NHS North Bristol, Bristol)
Best in Civil & Third Sector Services
Girish Menon (Action Aid, London)
Sachin Shah (Harrow Council, Wealstone)
Kamlesh Patel (Royal Society for Public Health, London)
Ravindra Pragji Govindia (Wandsworth Borough Council, London)
Prithipal Singh Kang (Kent Fire and Rescue Service, Maidstone)
Paromita Konar-Thakkar (Department for Business, Energy and Industrial Strategy, London)
Bhaskar Dasgupta (Ministry Of Housing, London)
Ashok Kumar Chauhan (British Army, Farmborough)
Philip Abraham (Council of Loughton, Loughton)
Parm Sandhu (Metropolitan Police's , London)
Best in Media
Anushka Arora (Sunrise Radio, Hounslow)
Nikesh Rughani (BBC Sport, Leicester)
Binda Rai (University of London Worldwide, London)
Bobby Friction (BBC Asian Network , London)
Kiran Kaur (Sky News, London)
Naga Munchetty (BBC, London)
Anita Chumbar (Asian Today, Birmingham)
Fatima Patel (Asian Sunday Newspaper, Bradford)
Anita Rani (BBC, Leeds)
Best in Education
Sunil Khilnani (King's College London India Institute, London)
Hardip Singh Begol (The Eden Academy, London)
Kamaldeep Singh Bhui (Queen Mary University of London, London)
Pathik Pathak (University of Southampton, Southampton)
Swaran Singh (Warwick Medical School, Warwick)
Harprit Thacker (University College Birmingham, Birmingham)
Sardul Dhesi (South and City College Birmingham, Birmingham)
Shabir Ismail (Leicester College, Leicester)
Raj Singh Badhan (Aston University, Birmingham)
Best Professional in Business
Amy Hothi (Grant Thornton, London)
Nina Kaur (Care Unique, Bradford)
Sandeep Senghera (Arosa Property, London)
Moin Valli (The Valli Group, Huddersfield)
Heeral Shah (Barclays, London)
Pinesh Mehta (British Growth Fund, Manchester)
Nish Bhatia (Torr Waterfield, Leicester)
Amit Joshi (Seths Chartered Surveyors and Estate Agents, Leicester)
Shockat Patel (Sask Opticians, Leicester)
Khurshid Best in Legal Services
Ratika Puri Kapur (The Angel World, London)
Raj Rainu (Sikh Wills, Leamington Spa)
Jo Sidhu (Lincoln's Inn, London)
Sherina Petit (Norton Rose Fulbright, London)
Vijay Parikh (Harold Benjamin Solicitors, London)
Vidisha Joshi (Hodge Jones & Allen, London)
Gurmeet Jakhu (Emms Gilmour Jakhu, Birmingham)
Rahul Batra (Hudson Mckenzie, London)
Arts & Cultural Awareness
Wings (London)
Akademi (London)
Chila Kumari Burman (London)
Kala Sangam (Bradford)
Behind the Netra (London)
Kiln Theatre (London)
British Carnatic Choir (Birmingham)
The Dhol Foundation (London)
MrASingh Ltd. (Birmingham)
Raj Art (Tynemouth)
Indian Spirit in the Community
Mandy Sanghera (Mandy Sanghera, Warwick)
Lashman Singh (Bradford Metropolitan Food Bank, Bradford)
Preetinder Singh (The Vegetarian Body Builder, Birmingham)
Baljinder Singh Rana (Guru Nanak Football Club , Gravesend)
Rilesh Kumar Jadeja (HM Courts & Tribunals Services, London)
Tarsem Singh (British Sikh Council , Walsall)
Onkar Purewal (The Weddiing Guru, Cardiff)
Divya Mathur (Poetry On South Bank, London)
Sanjiv Nichani (Healing Little Hearts, Leicester)
Sukchandan Kaur (Nagalro, Esher)
Young Achiever of the Year
Ishwar Sharma (I Yoga Solutions, Kent)
Laasya Chigurupati (World Records Biennale Foundation, Leeds)
Amika George (Free Periods,London)
Harleen Kaur (World Martial Kombat Federation, Bradford)
Family Business of the Year
Sekhon Group (Bradford)
HKS Holdings (Leicester)
Group Imperial (Leicester)
Talash Hotels (Leaminggton Spa)
Love Shopping Direct (Perrybarr)
The Knowledge Academy (London)
Flying Trade Group (Essex)
Purico Group (Nottingham)
Leaders in Finance 
Shehla Hasan (Confederation of British Industry, London)
Jasjot Singh Kohli (Nomura Asset Management, London)
Indy Hoti (University of Cambridge,  Cambridge)
Ranjit Gokarn (HSBC, London)
Arun Kumar Trivedi (Vorse Solutions, London)
Abhijit Deb (Cognizant UK, Reading)
Bhavin Shah (Sigma Pharmaceuticals, Watford)
Amrit Bahia (Royal Bank Of Scotland, London)
Alpa Bhakta (Butterfield Mortgages, London)
Best Charity of the Year
Association of Blind Asians (Leeds)
Saheli UK (Manchester)
Awaaz Charity (Nottingham)
Action Village India (London)
Sewa UK (Birmingham)
India Direct (Macclesfield)
Raindrop Campaign (Bromley)
India Association (Denham)
Akshaya Patra Foundation (London)
Businesswoman of the Year
Julie Chakraverty (Rungway, London)
Vinodka Murria (Elderstreet Investments)
Monica Kalia (Neyber, London)
Sunny Panwar (Raise Capital Group, Birmingham)
Madhuban Kumar (Metafused, Manchester)
Bharti Patel (Guide Security, Blackburn)
Priya Lakhani (Century Tech, London)
Businessman of the Year
Sudhir Choudhrie (Stellar International Art Foundation, London)
Herman Narula (Improbable, London)
Priyesh Patel (Cofresh Snack Foods, Leicester)
Mehool Sanghrajka  (Learning Possibilities Limited, Elstree)
Vikas Sagar Shah (Swiscot Group)
Anish Kapoor (Accesspay, Manchester)
Dharmash Mistry (Blow Bar, London)
Manish Madhvani (GP Bullhound, London)
Arjun Waney (Zuma, Knightbridge)
Ravi Bains (Grosvenor HSC, Birmingham)
Business of the Year
Richmond Laundries (London)
Transputec (London)
Premier Decorations (Middlesex)
Marketinvoice (London)
House Keep (London)
Marsans Law (London)
Easy Food (Birmingham)
Brightsun Travel (London)
One World Express Group (Southhall)
Shana Foods (Wembeley)
Entrepreneur of the Year
Pranay Paw (Prima Healthcare Ltd & JDP Hotels Group, Birmingham)
Reshma Sohoni (Seedcamp, London)
Nidhima Kohli (My Beauty Matches, London)
Jad Choudhury (Naga King, London)
Sujit Nair (BookMyHealthCheckup, Brentford)
Sid Narang (TheSqua.re Group, London)
Radhika Seth (Sequoia London, London)
Sukhi Wahiwala (The Business Boardroom Program, London)
Onkardeep Singh (Meraki-Design, London)
Nimesh Sanghrajka (Mantra Capital, London)
Best International Business 
Avocet Sports (Manchester)
Atul Ltd (Stockport)
Kotak Mahindra Bank (London)
ICICI Bank (London)
Typhoo Tea (Merseyside)
Axis UK (London)
Anand International (Leicester)
Lebara Media (London)
Bank of Baroda (London)

Indian Man Of The Year
Rami Ranger (Sun Mark Ltd, Greenford)
Kash Singh (One Britain One Nation, Cononley)
Dilip Joshi (Asian Welfare and Cultural Association, Eastleigh)
Ash Soni (Royal Pharmaceutical Society, Harrow)
Naren Naik (British Enhancement Centre, Leicester)
Khurshid Drabu (Muslim Council of Britain, Southampton)
Jaswant Bilkhu (British Indian Business Forum, Nottingham)

Best SME Business 
Galaxy of Homes Ltd (Peterborough)
Varana World (London)
Kirens Hair & Beauty (Leeds)
Garg Solicitors (Birmingham)
Elite Tuition (Northolt)
Abstract PR (London)
Silver Mountain (Birmingham)
Citibond Travel (London)
Five Rivers Global Search (London)
Sow & Reap Properties (London)
Influential Leaders
Vin Murria (HD Capital, Bradford)
Sanjiv Patel (Integral Wealth Management, Leicester)
Alka Kapoor (East End Foods, West Midlands)
Rani Bilkhu (Jeena, Slough)
Kailash Chander Suri (Reel Cinemas, Leicester)
Anil Majithia (Voluntary Action Leicestershire, Leicester)
Mike Kapur (National Space Centre, Leicester)
Deepak Johar (Johar & Company, Leicester)
Karamjit Singh (University Hospitals of Leicester, Leicester)
Entertainer of the Year
Bambi Bains (Birmingham)
Jasmin Walia (Essex)
Veronica Mehta (Belfast)
Amar (Walsall)
Tasha Tah (London)
Navin Kundra (Coventry)
Sophie Choudry (Manchester)
Susheela Raman (London)
Tripet Garielle (Westminster)
Jagtar Singh Dulai (London)
Rising Star in Law
Neelam Heera (FBC Manby Bowdler, Wolverhampton)
Harjinder Bains (Wolseley,Royal Leamington Spa)
Keran Sangha (TLT, Glasgow)
Gurjit Pall (Livingstone Brown, Glasgow)
Priya Bakshi (KCH Garden Square, Nottingham)
Vaishali Thakerar (Lawson West Solicitors, Leicester)
Amardeep Mann (Mann & Co Solicitors, Birmingham)
Pavneet Matharu (ORJ Solicitor, Stafford)
Community Initiative of the Year
Indian Ladies UK (London)
Serve the Planet (London)
Doctorpreneurs (London)
Cambridge friends of India (Cambridge)
South London Anglo Indian Association (Croydon)
Basics of Sikhi (Nottingham)
Boss (London)
Mighty Khalsa (Southall)
Jeena (Slough)
Sikh Women's Action Network (Tipton)
Women of the Year 
Jasvinder Sanghera (Karma Nirvana, Leeds)
Ravinder Bhogal (Jikoni, London)
Anju Wadhwa Narang ( Punjabi Society of British Isles, Surrey)
Lakshmi Vyas (Hindu of Forum Europe , London)
Mayura Patel (Faiths Together in Croydon & SACRE, Croydon)
Pavan Amara  (My Body Back, London)
Harnaam Kaur (Harnaam Kaur Foundation, Slough)
Muna Chauhan (Hindu Council Uk, Southhall)
Sanju Pal (Rise, London)
Young Entrepreneur of the Year 
Ravi Toor (Filamentive, Leeds)
Dhillan Bhardwaj (Ratchet clothing company, Nottingham)
Akshay Ruparelia (Doorsteps.co.uk, London)
Shaleena Chanrai and Roshni Assomull (Bella Kinesis, London)
Tamara Rajah (Live Better With, London)
Deepak Shukla (Pearl Lemon, London)
Tanisha Mehta (My Own Chemist, Middlesex)
Sitar Teli (Connect Ventures, London)
Cynthia Shanmugalingam (Kitchenette, London)
Krishan Meetoo (Proversity, London)
Creative Entrepreneur of the Year 
Asma Khan (Darjeeling Express, Westminister)
Rahul Parekh (EatFirst, London)
Sai Lakshmi (Echo, London)
Preet Dev (Space, London)
Raj Baddhan (Biz Asia, Leicester)
Hither Mann (Fortune Academy, London)
Sanjay Aggarwal (Recorked, Windnes)
Aatin Anadkat (The Fish & The Chip, Leicester)
Baljit Rihal (Inventive Sports, London)
Wow Business of the Year 
Asiana (Nottingham)
M Cubed (Leicester)
Aire London (London)
Skilliantech (Birmingham)
Punjab Pakora (Ayr)
St Georges Nursery Schools (Leicester)
Bobby Dhanjal Wealth Management (Leicester)
Nisha Enterprises (Livingstone)
PEC Building & Shopfitting (London)
Indus Valley (Nottingham)