An ambitious new programme helping young refugees and asylum seekers thrive within the Birmingham community has been praised by Preet Kaur Gill, MP for Birmingham Edgbaston.
More than 100 young refugees and people seeking asylum are being supported in the city through Surviving to Thriving, a £1m partnership between British Red Cross, the Refugee Council and UpRising, funded by players of People's Postcode Lottery.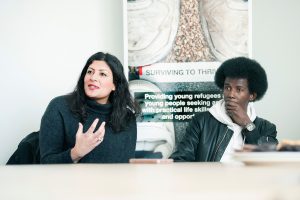 Ms. Gill met with 7 of the young people to hear first-hand about their experiences of living in Birmingham, and how the project is helping them build their confidence, learn new life and leadership skills, improve their mental well-being, reduce social isolation and become active members of their communities.
Commenting on her visit, Ms. Gill said she was 'delighted' to see the difference that the Surviving to Thriving project is making to the lives of those it supports in Birmingham.
She continued: "Many young people who are refugees or seeking asylum have gone through truly horrendous experiences – experiences that would be extremely traumatic for an adult, let alone a young person or child."
In Birmingham, young people can access tailored support from the British Red Cross, Refugee Council and UpRising. This can include workshops on rights and entitlements, group sessions to build confidence, skills and social networks, one-to-one and group therapeutic counselling, and personal development and social action schemes.
Ms. Gill added: "The support provided by Surviving to Thriving is offering crucial assistance to some of the most vulnerable in society enabling them to not only come to terms with the ordeals of the past, but to go on to lead happy, successful lives and become active members of the community."
More than 250 young refugees and asylum seekers have been referred to Surviving to Thriving across Birmingham, Leeds and Bedfordshire since its launch in June 2017.
Firty, 19, is one of the young people accessing the programme in Birmingham. He explained: "Surviving to Thriving gives you all the help and direction you need to know about your situation, and how you're going to be able to live here in the UK."
He added: "For me that's been so important."
Alex Fraser, UK Director for Refugee Support at the British Red Cross, said:
"We are delighted that Ms. Gill has had an opportunity to experience this amazing project first-hand and hear about the challenges that unaccompanied asylum-seeking children and young refugees face in the UK, in their own words.
"Not only do these young people arrive alone in an unfamiliar country, but they have to face a complicated and lengthy asylum process while dealing with the trauma of their journey to the UK.  
 "British Red Cross is incredibly proud to be working in partnership with the Refugee Council and UpRising, empowering young refugees and asylum seekers to rebuild their lives and actively integrate in their new community. This unique combination of expertise is ensuring that these young people have a place to turn to for the emotional support, practical life skills, and leadership opportunities that every teenager deserves."
Maurice Wren, Chief Executive of the Refugee Council, agreed, adding:
 "Being a teenager is challenging at the best of times, but for an adolescent who is a refugee or seeking asylum in a strange country, reliving the painful memories of hazardous journeys and experiencing the debilitating feelings of separation, loss, isolation, fear and uncertainty, it can be nothing short of a living nightmare.
 "As part of Surviving to Thriving, the Refugee Council is providing vital personalised therapeutic support from professionals who understand what these young people are going through. We address their trauma and nurture their extraordinary strength and resilience."
Lucy Caldicott, Chief Executive Officer of UpRising, said:
 "We are really proud to be part of this fantastic project providing life skills, mental health support and leadership development to young people in the UK.
 "Through our innovative 'Find Your Power' Programme we have so far supported nearly 50 young people across Birmingham and Bedfordshire in building their confidence and developing key leadership and communication skills. Refugees and asylum seekers shouldn't just survive in the UK, they should thrive."