Mitzvah Day sees Jews, Christians and Muslims unite to help others
Tens of thousands of volunteers give their time not their money
Theresa May and Jeremy Corbyn send messages of support
74% of participants say they met someone they wouldn't otherwise
 Chief Rabbi Ephraim Mirvis, Archbishop of Westminster Cardinal Vincent Nichols and Assistant Secretary General of the Muslim Council Imam Ibrahim Mogra were among tens of thousands of volunteers – including MPs and celebrities – helping others on Mitzvah Day 2017, the UK's biggest faith-based day of social action.
A Jewish-led day of good deeds, Mitzvah Day saw people of all ages and faiths give their time, not their money, to help others. In the UK alone there were 415 separate Mitzvah Days, resulting in more than 1,200 projects to support the elderly, homeless, refugees and some of the poorest and most vulnerable in society.
This year's Mitzvah Day also saw the charity gain its greatest ever global reach ever, with a record 30 countries taking part ranging from Australia, Germany, France and Israel to the Philippines, Namibia, Belarus and Romania. In total, 40,000 volunteers took part in 731 Mitzvah Days around the world.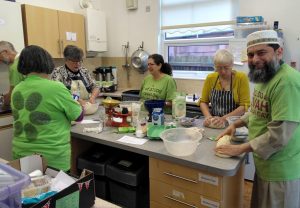 At South Hampstead High School in London, the Chief Rabbi helped sort clothes for the Holy Trinity Shelter with Cardinal Nichols, the UK's most senior Roman Catholic. They were joined by the Bishop of Edmonton Rt Revd Rob Wickham, Keir Starmer MP, Mitzvah Day's Interfaith Chair Daniela Pears and school children of all faiths and none. The event also marked The Pope's World Day of the Poor.
Chief Rabbi Mirvis said: "Mitzvah Day promotes one of the core values and priorities of our Jewish community in a most extraordinary way. The energy, compassion and kindness with which thousands of people on Mitzvah Day give of their time for countless worthy activities never fails to inspire me."
Mitzvah Day Founder and Chair Laura Marks added: "In a divided world, where we are increasingly suspicious and often fearful of our neighbours, events such as Mitzvah Day are more vital than ever in bringing people together and beginning to form real and lasting friendships between faith groups."
Imam Ibrahim Mogra led Muslim involvement in Mitzvah Day, joining his local Leicester Progressive Jewish Congregation to bake the Jewish bread known as challah and make place mats for the homeless. Imam Mogra said: "Mitzvah Day is important for the Muslim community to participate in. It gives us an excellent opportunity to get to know our Jewish brothers and sisters, as well as people of other faiths."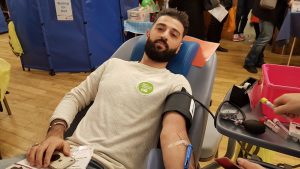 In total eight different faiths took part in Mitzvah Day – including Hindus, Sikhs and Buddhists – resulting in more than 100 interfaith events involving people who had never met before.
A survey of participants, conducted by Coventry University's Centre for Trust, Peace and Social Relations, found that 74% of those taking part felt that they came into contact with someone whom they otherwise would not have encountered. These included people from different faith groups, age groups or ethnicity.
Mitzvah Day also united politicians of all stripes – with Theresa May, Jeremy Corbyn, Vince Cable and Nicola Sturgeon putting out messages of support. The Prime Minister said: "Mitzvah Day is a special time when thousands of people, of different faiths and no faith, come together to help others and do something positive for their local community."
The Mitzvah Day theme for 2017 was inspired by the Jewish value of L'Dor Vador: From Generation to Generation with many participants volunteering alongside their parents and children. These included Tulip Siddiq MP – who brought her baby Azalea Joy to help make cards for refugees at the JW3 Jewish Community Centre – and Liberal Judaism's Senior Rabbi, Rabbi Danny Rich, who was accompanied by wife Laura Lassman and their children and grandchild to entertain residents at Vi and John Rubens House, a Jewish Care home in Redbridge.
Rabbi Rich said: "Helping one's neighbours was something I learned from my aunts, through their example, when they took me volunteering as a child. On Mitzvah Day, like many others around the UK and indeed the world, I was delighted to be accompanied by my children and a grandchild in the hope that they in turn will continue to make the world a better place."
Flagship projects taking place for Mitzvah Day 2017, on and around Sunday November 19, included:
A joint Jewish, Muslim and Christian trip to Calais to help Care4Calais and the Dunkirk Refugee Women's Centre. The group took five cars packed with donations including coats, jumpers and cake.
Muslims from the new Golders Green Islamic Centre joined with Jews to give blood at Golders Green Synagogue – showing unity after recent controversies and the petition against the centre.
The only Jew in the Cumbrian village of Hawkshead turning it 'Mitzvah Day green' by teaming up with the local church for a series of events including tea for the elderly, knitting for the homeless and tree planting.
EastEnders and Fiddler on the Roof star Tracy-Ann Oberman and Mock The Week creator Dan Patterson joining volunteers all generations to sing for the elderly at the Spring Grove care home in Hampstead.
Young Jewish and Muslim schoolchildren from JCOSS and Lady Nafisa Schools coming together to cook for the homeless and clear out the Sufra NW food bank.
Jews and Christians in Newcastle filling and wrapping more than 100 shoe boxes for the area's needy, containing toiletries, knitted hats, gloves, scarves, socks and sweets.
A Jewish/Hindu group completely replanting and renovating the gardens of the Royal National Orthopaedic Hospital in Stanmore, assisted by Bob Blackman MP.
Many more projects all around the UK from Bollywood dancing in a Harrow care home to mucking out Kentish Town Farm to Leeds University students setting up food collections all over the city.
In Belarus, communities came together to clean an abandoned synagogue from the 1600s.
Other international projects included a blood drive in Johannesburg, interfaith cooking for the homeless in Namibia, a cemetery clean-up in Barcelona and care home visits all across Germany and Australia.
For more information on Mitzvah Day 2017, please visit www.mitzvahday.org.uk