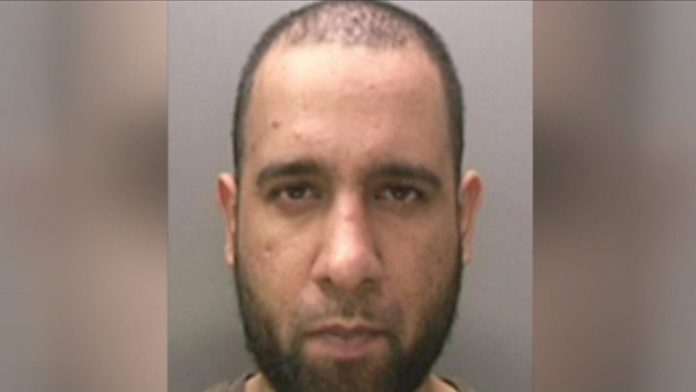 Zahid Hussain, who planned to bomb a railway line with a device made from fairy lights and a pressure cooker, has been jailed for life.
The 29 -year-old from Birmingham filled the appliance with 1.6kg of shrapnel and made "improvised igniters" from the festive decorations.
Hussain became radicalised after watching and reading extremist material in his bedroom.
In May, he was convicted of preparing for an act of terrorism and was sentenced at Winchester Crown Court on Monday.
His trial was told how Hussain wrongly believed his non-viable pressure cooker "bomb" was capable of causing devastation.
In August 2015, in the days running up to his arrest, Hussain had made repeated visits to a section of the West Coast Main Line, which the prosecution said was to research a possible attack.
Books on guerrilla warfare were also discovered following his arrest, including one which talked of mounting attacks on railways.
His computer showed he had an interest in so-called Islamic State, or ISIS, and events in Syria.
Judge Mr Justice Sweeney, who sentenced "dangerous" Hussain, said that had his device been viable, it would have been capable of causing a "significant explosion".
Since his arrest in 9 June 2015, Hussain has been held in a psychiatric hospital under the Mental Health Act. He was charged with terrorism offences in June the following year.
Judge Sweeney concluded that on the evidence and reports of several expert psychiatric reports, Hussain had – during the time of the offence – and still did, suffer with paranoid schizophrenia.
Dr Philip Joseph, a consultant psychiatrist instructed by the prosecution, said he believed his psychosis was 'probably connected to his heavy use of cannabis.'
Upon sentencing, Judge Sweeney said, "You are a dangerous offender and in the view of the level of the danger that you pose, and the impossibility of predicting when it will come to an end, this is an appropriate case in which to impose a sentence of life imprisonment."
"If detonated in a crowded area it would have been potentially fatal to those within metres of it and would have potentially caused serious injury among those up to 10 metres away," Sweeney said.
"In your case, culpability is extremely high as more than one explosion was clearly intended, and the harm to be caused was ultimately loss of life or serious injury to the person.
"You were clearly deeply radicalised and, over a period of at least nine months, were strongly committed to what you were doing."
Hussain will serve a minimum of 15 years.