Police are investigating a drive-by shooting on Broad Street outside a strip club.
Calls were made to police after just after 11.30pm on Tuesday after a car drove past Cyclone Club and fired a gun, hitting a window of the lap dancing establishment.
A spokesman from West Midlands Police said, "Police were called to the Cyclone Club on Broad Street just after 11.30pm last night (11 July) after a shot was fired through a window from a passing vehicle.
"No-one was injured and officers are fast tracking CCTV enquiries."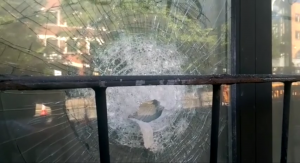 Broad Street, one of the busiest places in Birmingham and the centre of nightlight with copious bars, restaurants, pubs and clubs, would have been packed the night of the shooting.
One witness stated, "There was an extensive police presence on Broad Street but then they all darted off looking for the car."
Although no one was injured, it has certainly shaken up the local residents and Broad Street frequenters. Last year, multiple clubs were closed down on Broad Street due to gun, knife and drug crime.