BAFTA winner, TV and radio favourite Hardeep Singh Kohli is bringing a brand-new hour to Assembly at the Edinburgh Festival Fringe this year.
Alternative, Fact is Hardeep's take on today's political climate. In times of such political upheaval (such as a snap general election) we need a visionary to make sense of the nonsense. While we're waiting for them to show up, Hardeep Singh Kohli pontificates on his take on Brexit, Scottish independence and Donald Trump. Combine that comedy goldmine with his quick-fire wit and patter and this year's show is going to be his most successful yet!
Hardeep is well-known for his take on current affairs on many of the UK's biggest news programmes and is bringing these views to the fore in his new live show. He is a regular panellist on Channel 5's hugely popular current affairs show, The Wright Stuff and has been a regular reporter on BBC1's The One Show, as well as having been a guest on BBC 1's Question Time and This Week discussing subjects such as Scottish Independence and national identity.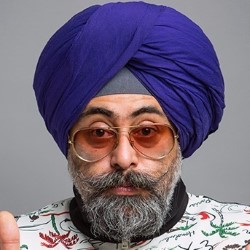 For Channel 4 he has written and presented the BAFTA Award-winning In Search of the Tartan Turban, the critically acclaimed and award winning Hardeep Does… and the seminal gambling series 50 Says You'll Watch This.
As a journalist, his column in Scotland on Sunday called "Hardeep is Your Love" saw him twice nominated in 2007 and 2008 for Scottish Columnist of the Year at the Scottish Press Awards. His 2014 Fringe show of the same name was a complete sell-out as well as his 2016 show Mix Tape.
He is also Contributing Editor on the Spectator Magazine, has written for the Independent on Sunday, The Times, Observer Woman, Conde Nast Traveller to name but a few. Hardeep is currently star political satirical columnist for The Sunday Herald and a food columnist and political writer for The New European.
Having started his broadcasting career in radio he still holds the wireless very dear, presenting extensively across BBC Radio 4 and BBC Radio 5 Live and has made a plethora of documentaries for BBC Radios 2, 3 and 4.
Twitter: @misterhsk
What the press have said about Hardeep Singh Kohli
"Immensely funny" Daily Express
"This show is funny. Very, very funny" Leicester Mercury
"This show is very funny – with Hardeep, what's not to love?" Edinburgh Guide
"something really quite special…In between the laughter, and indeed often mingled in with it, are stories of genuine power" Broadway Baby
Listings Information:
Dates:                   2nd – 27th August 2017 (not 14th)
Show:                    Hardeep Singh Kohli: Alternative, Fact
Venue:                   Assembly: Three
Address:               George Square, Edinburgh, EH8 9JS                  
Time:                     5.15pm
Price:                     Previews: £8, weekends: £13, weekdays: £11
Box office:           www.assemblyfestival.com / 0131 623 3030
For more information please contact Gaby Jerrard / Claire Hoyda / Matthew Christian at:
gaby@gabyjerrardpr.com / claire@gabyjerrardpr.com / matthew@gabyjerrardpr.com
020 7690 0006