Theresa May visited Nishkam Primary School Birmingham today, where she praised pupils, staff and the community who are closely involved with the pioneering free school.
The Prime Minister spent time in the classroom with eight-year-old pupils who demonstrated their knowledge of an artist, Henri Rousseau, and discussed JK Rowling's Harry Potter books with her.
Talking to Dr. Brinder Singh Mahon, Chief Executive of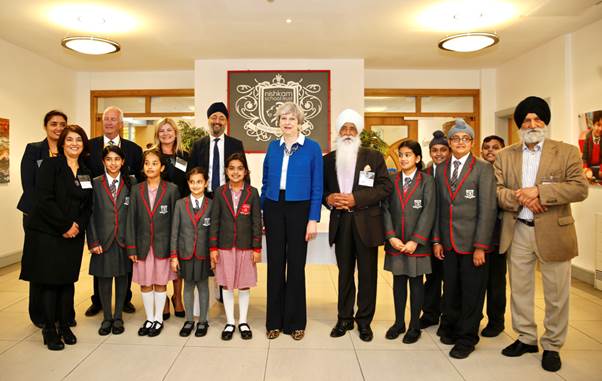 Nishkam School Trust, the multi-academy trust operating the school, the Prime Minister commented that she was inspired by the strong values education upon which the school is based and by the warm, family-like atmosphere within the school.
Bhai Sahib, Bhai (Dr.) Mohinder Singh Ahluwalia, who is the patron and visionary behind Nishkam School Trust said, "We are living in new global contexts, with new global challenges.  These require a mind-set centred on values and virtues, along with a keen sense of shared responsibility. Our vision at Nishkam School Trust is to help nurture such a mind-set, enabling our future society to advance and flourish for the benefit of all."
Mr. Terry Green, Chair of Directors of Nishkam School Trust commented, "On behalf of pupils, parents, staff and the entire community behind Nishkam School Trust, may I thank the Prime Minister for recognising the contribution our multi-faith Sikh ethos school is making to the educational and spiritual life of pupils in this part of Birmingham."
Ms. Ruby Kundi, Headteacher, added, "We are very grateful for government policy which has allowed the Department for Education to give us this opportunity and responsibility to make a difference to each and every pupil in all of our schools."
Nishkam Primary School Birmingham (NPSB) is located in Handsworth, an inner-city area of northwest Birmingham.  It opened in September 2011 as part of the country's first wave of free schools. The school is part of a cluster of developments serving to regenerate the local area by combining social innovation with heritage conservation.
Nishkam Primary School Birmingham is currently judged to be 'Outstanding' in all categories by OFSTED, an accolade shared by three of the four schools in the Nishkam School Trust.