A Coventry University graduate devoted to tackling terrorism has spoken about how he stopped a young man joining ISIS with just hours to spare.
Mutaru Mumuni Muqthar, a graduate of Coventry's International Terrorism masters course, has already helped at least 20 people turn away from extremism since he set up a counter-extremism centre in Ghana.
The 34-year-old launched the West Africa Centre for Counter-Extremism (WACCE) after graduating from Coventry in 2013. Since then he and his team have helped 22 radicalised people to turn their back on terrorism – last year preventing a 21-year-old from joining ISIS in Syria.
Mutaru Mumuni Muqthar said:  "Last year I saved a young man's life. He had been radicalised online and was on his way to join the terrorist group ISIS after he spent time online looking for meaning in his life.
"Just a day before leaving to join the group he watched my TV outreach programme on counter-radicalization – that was what changed everything and he changed his mind.
"There is a methodology that these vulnerable people are taken through by groups such as ISIS.
"My organisation  engages with these people and takes them through a process which supports them, de-radicalises them and helps them back into society, school and work.
"West Africa is one of the deadliest regions for terrorism. My plans are to expand my counter terrorism work to include the entire West Africa region, helping to dissuade vulnerable groups and individuals from engaging in violent extremism and falling into the void of terrorist recruitment."
Mutaru originally from Accra, works across West Africa to deepen understanding of violent extremism and radicalization to promote the support available to vulnerable people at risk.
He spoke about his work and determination, as well as how postgraduate study helped him achieve his goals during the Coventry University Alumni Association Event in Ghana on April 29.
The event was run in conjunction with the British Council at Coventry's partner institution, Ghana Technology University College (GTUC) to promote the benefits of continuing in education to further careers and employability.
Mutaru hopes that engaging with other graduates about his work and how postgraduate study helped him develop the skills he needed to act, he can encourage more people to use education and make a difference.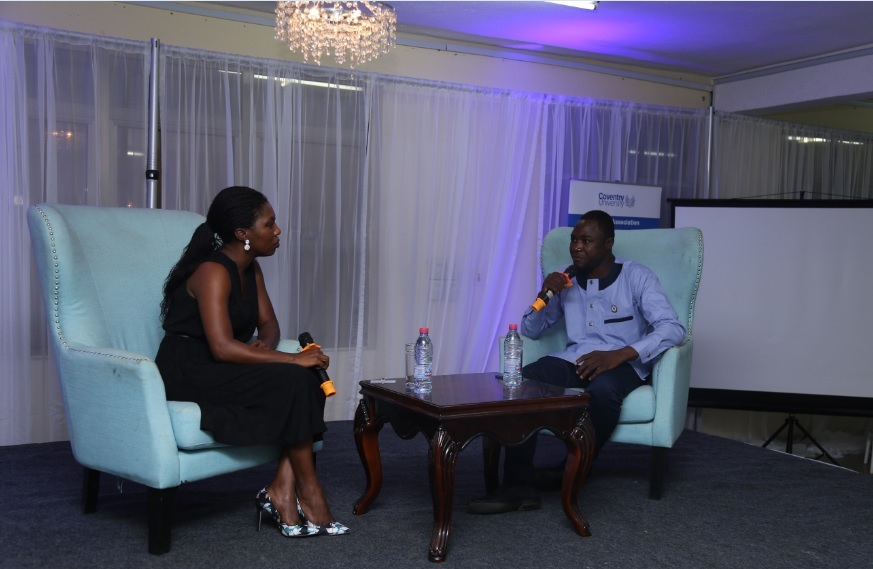 In recognition of his own work since graduating from Coventry in 2013, Mutaru was shortlisted for an international award at the UK Alumni Awards in Ghana. Selected from 60 nominees, Mutaru represented Coventry University in the social impact category.
In 2016 he was also elected as a Mandela Washington Fellow for Young African Leaders, being invited to a summit in Washington D.C where he met former US President Obama.
John Latham, Vice-Chancellor of Coventry University, said:
"Our students and alumni make a significant contribution to their communities, be they in the UK or internationally.
"Mutaru's is among the most significant and important. His team's work will shape many young lives and spread a message of peace and I am delighted that his journey began in Coventry.
"The success of our alumni is in part down to the experiences they have here and the opportunities they take throughout their studies."