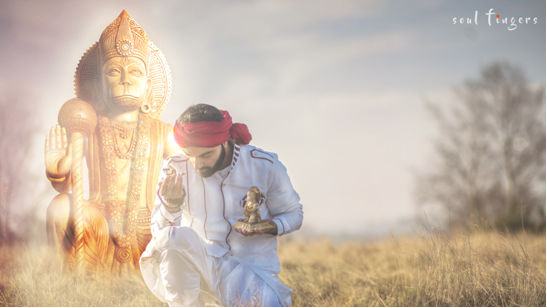 Birmingham based Artist Priyesh Dhoolab has released a beautiful and soulful composition of the "Hanuman Chalisa", a melody perfect for devotees following the path of yoga, meditation and Bhakti (loving devotion towards God).
The single was first shared online on the auspicious day of Hanuman Jayanti. This day is celebrated globally by millions to invoke devotion into their hearts through the grace of Lord Hanuman, the significant icon of surrender, humility, strength and unconditional love within ancient Hindu Philosophy.
Just months after releasing his first chanting "Kali Durge" which received a wide popular response, Dhoolab has now offered his third chanting.
"Hare Rama Hare Krishna" which he released for the celebrated festival of Janmasthami was his second track.
The young talent now frequently travels the country to spread the power of Mantra Chanting. Through the combination of his mesmerizing music and soothing voice, Dhoolab has begun to capture the attention of major record labels in India who have shown interest in his devotional movement.
Dhoolab has also been in talks with very established kirtan chanting artists from the USA, they have shown great interest in his work and expressed desires to collaborate with the talented Brit.
When asked why he chooses to create spiritual music as opposed to original movie style songs, where he has also shown great ability and success, Dhoolab replied:
"I don't create music. I believe it already exists. My spiritual practices allow me to hear it and then I allow it to flow through me. Might sound crazy, but I guess you have to be a little crazy at times (laughs…)"
Available for download on iTunes and all other major digital platforms: