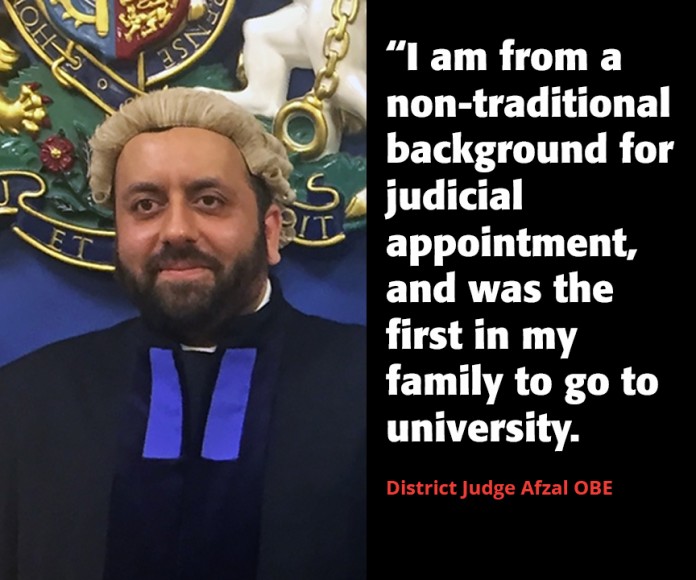 A blind barrister from No5 Barristers Chambers has been sworn in as a District Judge.
The Queen has appointed Dr Fayyaz Afzal OBE to be a District Judge on the advice of the Lord Chancellor, the Right Honourable Elizabeth Truss MP and the Lord Chief Justice of England and Wales, the Right Honourable The Lord Thomas of Cwmgiedd.
The Lord Chief Justice has deployed him to the Midland Circuit, based at Derby Combined Court Centre and Coventry Combined Court Centre with effect from Friday, 17 February 2017.
Fayyaz Afzal OBE, aged 39, will be known as District Judge Afzal OBE. When he was called to the Bar in 1999, Dr Afzal was the only Asian blind barrister in the country, and in recognition won the BBC's Asia Award. He went on to successfully practise in areas of crime, civil, family and immigration. In 2010 he was appointed as a Deputy District Judge, and appointed as a Recorder in 2015. He will continue to sit as a recorder on the Northern Circuit but will be principally based in Derby and Coventry.
He has also been a Legal Assessor and Legally Qualified Chair for a number of health and professional regulators.
Dr Afzal has been short listed for and won various awards over the years. He has also served on Committees at the Advocacy Training Council, Bar Council and at Lincoln's Inn where he is currently leading a sub-committee on social mobility. He is a senior advocacy tutor and in 2010 was made Honorary Doctor of Staffordshire University in 2010.
Mark Anderson QC, Head of Chambers at No5 said: "Fayyaz has been an inspirational role model for those with a disability and those who come from non-traditional backgrounds.
"He has worked hard to excel in everything he has done to date and benefits from an excellent reputation in so many fields. His appointment to the district is richly deserved."
Dr Afzal said: "I sincerely hope that my appointment to the District Bench will serve to reassure those with a disability or from non-traditional backgrounds that it is possible to succeed through determination and merit.
"I am from a non-traditional background for judicial appointment, and was the first in my family to go to university.
"I am extremely proud to be one of the only Muslim District Judges in the East Midlands, and I would hope that we will continue to see improvements to the diversity of the judiciary."