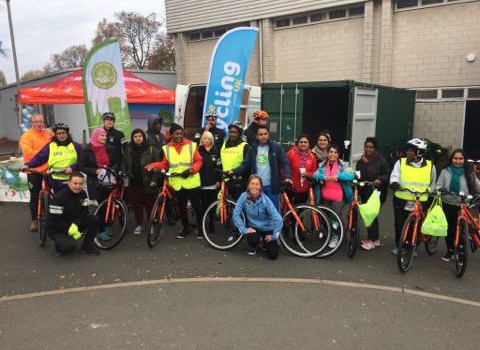 Originally Published on November 12th, 2016 by Lilli Keen
Handsworth Beat the Street Community Cycling Club launched in Handsworth on Tuesday 8thNovember. The event, which took place in Handsworth Wellbeing Centre, gave recognition to those who have already passed their Levels One and Two Cycling Award and welcomed newcomers to the challenge.
The launch, which involved various organisations including Beat the Street, Big Birmingham Bikes, Cycling UK (the
national cycling charity), Birmingham Wellbeing Service and Handsworth Community, presented each woman who had passed their Level Two Award with a new BBB bike and a certificate.
The sessions, which have had over sixty women attend, were launched after Beat the Street consulted participants at their awards day in April. Beat the Street, with the support of Handsworth Community, actively promoted the sessions in the community.
There were commnents from several of those involved. Asad Agha, Project Engagement Manager for Beat the Street: "People are now seeing the great benefits to their health and wellbeing. We aim to expand to other areas in the Midlands to encourage more people to participate in walking, jogging and cycling, as Beat the Street actively encourages this, and to continue our partnership working."
Simon Wade, who manages the Handsworth Community Facebook Page: "We've spent lots of time trying to bring the community together in an active way and it's so great to see it's finally happened."
Sam Sahdra, aged 61 (pictured left), who is an active member of the cycling club: "When I first started, I didn't know how to ride a bike and now I'm a ride leader. It's important we continue to encourage all the ladies here today to join us."
Bryn Lewis, Cycling Project Officer: "Beat the Street wanted to establish a legacy in Handsworth to encourage people to be active in the local area. The initiative is part of the partnership between Big Birmingham Bikes and Cycling UK to help cyclists gain ownership of up to 16 Cycling Hubs around the city."
Vanessa Morris, Community Club Development Officer for Cycling UK, commented: "It was lovely to see so many women who have achieved their awards receive a bike so that they can cycle whenever and wherever they want."
Dave Cox, Chairman of the Trustees for Cycling UK, added: "I'm really pleased to see that Birmingham Wellbeing
Service and Cycling UK have connected with the Handsworth Beat the Street Cycling Club. I'm hoping this will continue to spread within the community."
The event was an opportunity for all those involved to support and encourage each other in both their achievements and ambitions.
For further information about the Cycling Club and how you can join contact Simon Wade at handsworthbtsccc@gmail.com