Our very own British Asian singing sensation Navin Kundra has broken into the mainstream Urban Top 20 Charts with his stand out new single, 'Tear It Up'.
The official charts, published in industry magazine 'Music Week' reveal that Navin's single has climbed 5 places to Number 16 this week.  This is a solid performance by Navin and the gravitas of this achievement is really felt when you see Ariana Grande and Nicki Minaj are at number 15 and Beyonce is at number 17.
Despite being an independent and unsigned artist, the hitmaker behind songs such as 'Tere Liye' & 'Shudaayi' is now brushing shoulders with the likes of The Weeknd and Jason Derulo in the club charts with his first English single.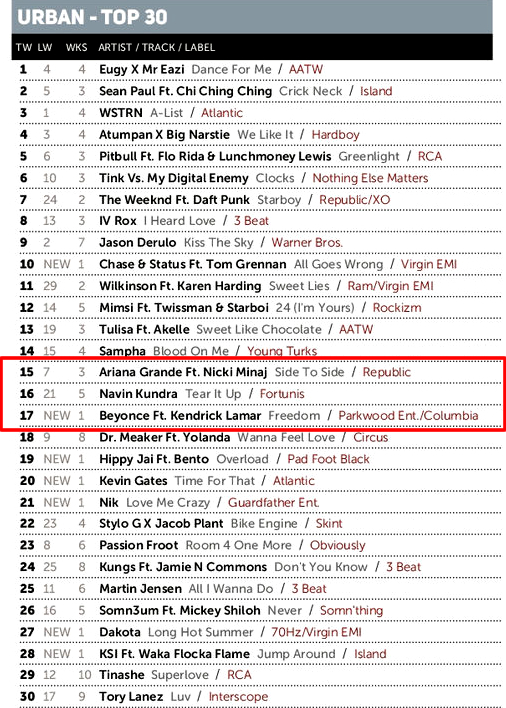 "This is definitely one of my proudest moments," said Navin.  "We have been working hard to come up with material that really stands out on an international level and now I'm on top of Beyonce!  That's pretty nuts!" he laughed.
Source: Music Week. (2016). Urban Club Charts.
To celebrate, Navin is treating all his fans by releasing the glossy new music video for 'Tear It Up'.  It features striking sets, evocative dancers and a hot new Navin Kundra.  "It's time to step things up. Time for a reinvention, which is why I've changed my look and upgraded my sound," explained Navin.  The award winning artist rocks a Versace suit in the video and is seen with David Beckham's Haig Club.  Watch the full video here: https://youtu.be/F6Nt3J3QJfY
'Tear It Up' is available now to stream and download on Apple Music, iTunes, Spotify and Google Play:
Stream: http://smarturl.it/tearitupstream
Download: http://smarturl.it/tearitupdownload