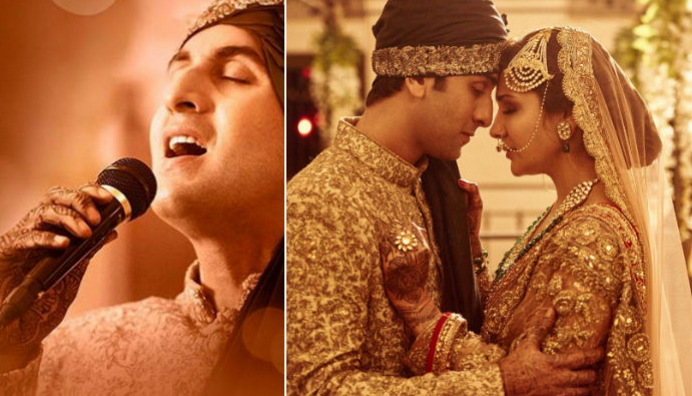 Karan Johar's much anticipated film Ae Dil Hai Mushkil finally revealed its third song and video and it's an instant hit and has already started melting hearts – Channa Mereya.
Music composer Pritam and vocalist Arijit Singh once again joined hands for the track – a soulful celebration of love and friendship through music and melody.
If Ae Dil Hai Mushkil's title track familiarized us to the intricate love lives of Ranbir Kapoor, Anushka Sharma, Aishwarya Rai Bachchan and Fawad Khan, the second track Bulleya belonged to Ranbir and Aishwarya's crackling chemistry. The latest, Channa Mereya, is all about Ranbir and Anushka. It is a soulful tune, an expression of angst when your friendship turns into love, giving rise to any different aspects of a relationship.
As Ranbir says in the song, "Ek tarfa pyaar ki taqat hi kuch aur hoti hai. Auron ki rishton ki tarah ye do logo mei nahi batta, sirf mera haq hai ispe."
The video features a wedding backdrop where Ranbir is singing the song to Anushka. Fans were quick to eye the elaborate Mehndi (henna) designs on Ranbir's hands expressing how cute it looked. Amitabh Bhattacharya's lyrics talk about reminiscence of the good old times that the two characters spent with each other.
The soulful and tantalizing music makes it hard not to feel a rush of emotions and get lost in the melody. Ranbir and Karan Johar have themselves expressed their love for the wonderful song, claiming it to be their favourite song of album.
The ultimate Diwali film of the year, Ae Dil Hai Mushkil releases nationwide in cinemas through Fox Star Studios on 28th October. Ae Dil Hai Mushkil is sure to light up your Diwali with love in its various shades