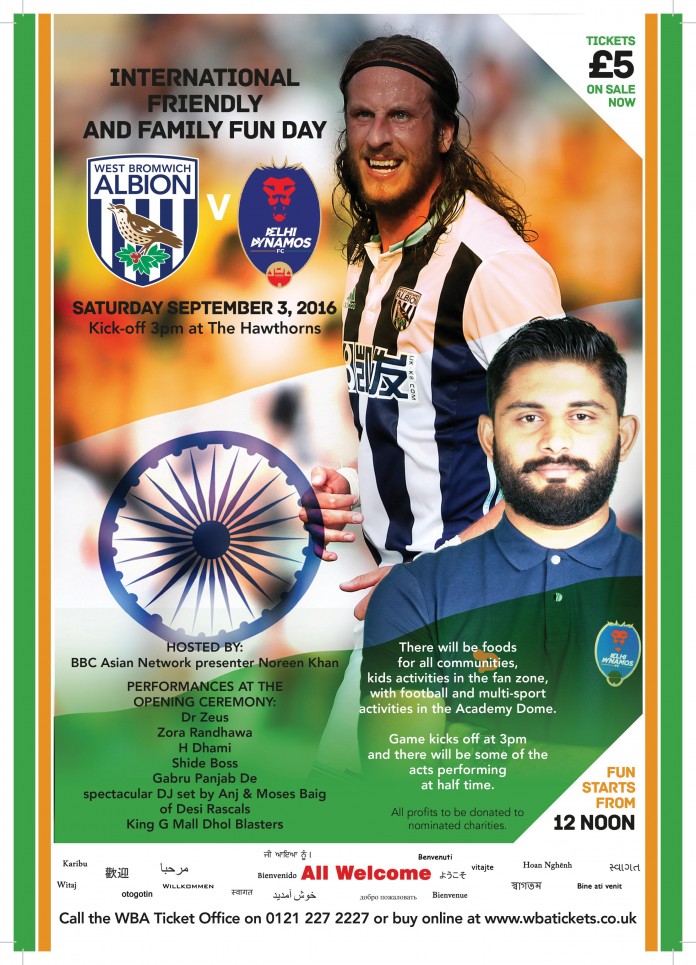 Award winning artists to be headline acts at the opening ceremony of an upcoming charity football match between West Bromwich Albion and Delhi Dynamos.
First ever friendly between a Premier League and Indian Super League club to commence Saturday 3rd September 2016, 1.30pm.
The event, which aims to raise money for the 5 selected charities, will be hosted by the stunning BBC Asian Network presenter Noreen Khan. There will be performances by award winning Punjabi singer and music producer Dr Zeus as well as Zora Randhawa, H Dhami and Shide Boss. There will also be dance performances by Gabru Panjab De, a spectacular DJ set by Anj & Moses Baig of Desi Rascals and a dhol performance by King of Dhol, godfather of world dhol players King G Mall.
An Albion XI will entertain the Indian Super League team on Saturday, September 3rd (kick off 3pm) as they visit England to step up their pre-season preparations.
The encounter will be the first between Premier League and Super League teams and promises to be a fantastic afternoon during the first international break of the 2016/17 domestic campaign.
It is the latest link-up between the Baggies and the Dynamos, who are managed by Italy's World Cup-winning full-back Gianluca Zambrotta.
Tickets for the friendly are priced at just £5, with all profits to be split between 5 charities.
Supporters can purchase tickets now via the club's East Stand ticket office, by calling 0121 227 2227 or online.