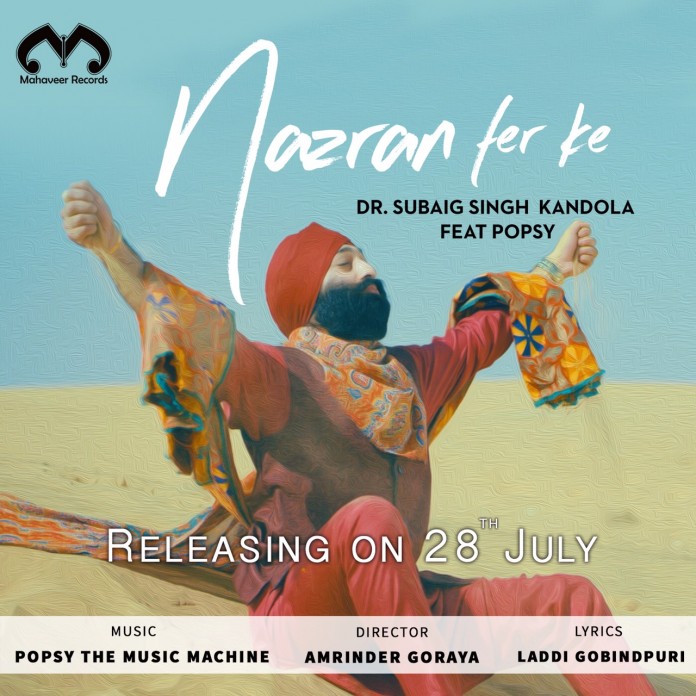 I caught up with up and coming Punjabi artist Dr. Subaig Singh Kandola as he launches through his UK debut. The multi-talented artist recently released his second single, Nazran Fer Ke, which has since reached a million views!
You're in the middle of your UK debut, how has it been so far?
Very well, thank you. This is actually my second track now that I've released. My first one was Tere Joothiye Ni Laare which came out in May. This is my second release called Nazran Fer Ke which came out last week.
You've collaborated with Popsy Nandha, who would you like to collaborate with next?
My next track is coming out with Popsy as well. I'm looking for new people to work with, but the benefit of working with Popsy is that we actually get on really well and we have the same musical taste so I'll be looking to do further work with Popsy. But if other opportunities come along then I'm open to them.
How would you describe your musical style?
My musical style is raw, very traditional, old school Punjabi folk.
Who are you musical idols? M
Musically, my idols are Sarinder Shinda and Gobi Marnek.
You have a lot of passions; medicine, MMA, music, comedy. Which is your biggest passion?
My biggest passion I would say at this moment in time is singing right now. But at different stages in my life, my passion has been directed elsewhere. There was a period when I was competing as a professional MMA fighter for about 3-4 years and I lived and breathed MMA for that period of time. So I think my passions are overall performing, singing and acting and on the other side is training and martial arts and fighting. Those two strands will stay with me throughout my life.
You've also tried your hand at poetry. What would you say inspires your music and poetry?
Regarding inspiration for the music, the inspiration came from Punjabi folk artists from the 1980s. A lot of it comes from my love of dhadi, dhadi being a folk style of singing. And the poetry is something which came from within, something I was born with, something I was blessed with. It's not something that I studied formally, it's just a way of expressing my feelings and putting them down on paper.
Are you set on music as your career?
Certainly. I think it's important to aim high, that's what I want to go for.  My plan is to do everything I need to do to make it work.
Where are you hoping your career will take you?
I'm hoping I'll be an established name within the Punjabi music field and I hope to do live gigs and tours and have the opportunity to travel the world and perform in front of live crowds who appreciate my music.