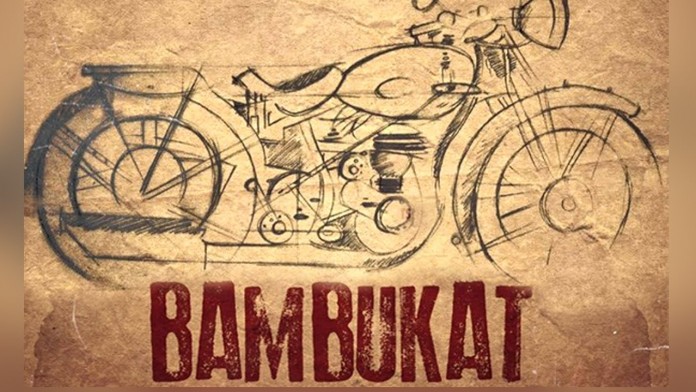 Release Date: 29th July
Cast:  Ammy Virk, Binnu Dhillon, Simi Chahal, Sheetal Thakur, Sardar Sohi, Hobby Dhaliwal​, Karamjit Anmol
Directed By: Pankaj Batra
Produced By: Amiek Virk, Karaj Gill
Music: Jatinder Shah
Distributor – Urban Vibez​
Rentrak​- 210057
​BBFC: Awaiting​
​Run Time: Awaiting 
​Language: Punjabi
Download music: https://we.tl/qu6mmCX5EJ
First Promo (For web use only) – https://www.youtube.com/watch?v=e9u_D-5lYJ4
​Jind – Music Video Promo (For web Use only) –  https://www.youtube.com/watch?v=CUimefeb5lo
Bambukat, set in 1960, is a story about a simple girl Pakko (Simi Chahal) who's not fair and looks dusky, her husband Chanan Singh (Ammy Virk) who is poor and from a small village but loves Pakko very much. He believes in doing different things and loves engines and machines and dreams to make different vehicles one day. 
On the invitation of in-laws, both Chanan Singh and Pakko reach their house expecting to be looked after but soon realize that everybody is already smitten by Pakko's sister Sami (Sheetal Thakur) and her husband Resham Singh (Binnu Dhillon). The whole house respects Resham as he is a big officer in railways and also owns a motorcycle, which is a huge affair. 
This is where the story of Bambukat takes a turn and Chanan Singh's quest begins to out show Resham Singh and own a motorcycle himself. Here is a story of a common man trying to impress all by outshining his brother-in-law along a rollercoaster ride of miss​haps.  Does Chanan Singh succeed in impressing the in-laws and fulfil his dream of owning a motorcycle? Does Pakko get her due share of respect from her family? 
 Bambukat opens in cinemas 29th July, worldwide.