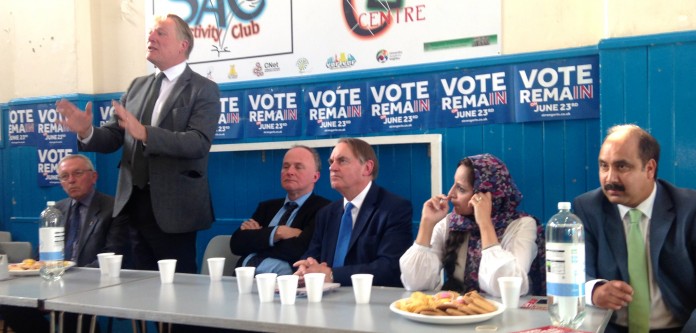 Over 150 people have gathered at the Sangat Centre in Keighley to hear some of Bradford district's most senior politicians outline why they intend to Vote Remain in the EU referendum on Thursday 23 June.
Bradford Council Leader Cllr Susan Hinchcliffe, Keighley and Ilkley MP Kris Hopkins and Yorkshire MEP Timothy Kirkhope headed a cross party panel of speakers invited to put the case for the United Kingdom to stay as a leading member of a reformed Europe, before taking questions from the audience.
Cllr Hinchcliffe, who was elected Bradford Council and Bradford Labour Group Leader last month, said:
"This is such an important issue for the future of the country and the district that we have to put politics aside. We have tonight spoken with one voice that remaining in Europe is vital. It's particularly important for the future of our young people.
Mr Hopkins, who led Bradford Council for four years before his election to Parliament in 2010, said that staying in the European Union was vital for the local economy.
He continued:
"More than 1,000 new jobs have been created in Keighley and Ilkley over the last six years. Not a single respected economist believes that leaving the European Union would benefit our economy and most believe it could do huge damage to our ability to trade with the rest of the world. Given the importance of the export market to so many companies in Keighley and Ilkley, this is not a risk we can afford to take."
Timothy Kirkhope, the Conservative MEP for Yorkshire and the Humber, said:
"It is vital that we are able to have these cross party panels to emphasise the issues and the importance of remaining in Europe for the country and for Yorkshire."
Former Labour parliamentary candidate for Keighley and Ilkley John Grogan said:
"Keighley and Bradford have always built an economy on looking outwards to the world. The fact that politicians in the town from all backgrounds have come together to speak as one shows how strongly we feel it is in Keighley's interest that the United Kingdom should remain in the EU."
Independent Keighley Central ward councillor and ex-Bradford Lord Mayor Cllr Khadim Hussain said:
"For a strong Britain it is in our interest to be part of Europe. We have heard today how Britain is leading the way on the European platform in particular in terms of integration and cohesion and we should not give that away lightly."
Cllr Abid Hussain, a former Deputy Lord Mayor of Bradford and a serving Labour Keighley Central ward councillor, said:
"I was delighted to be able to participate in the event to demonstrate publicly how united our local political leaders are on this campaign, illustrating the importance of remaining in Europe for our residents today and for future generations."