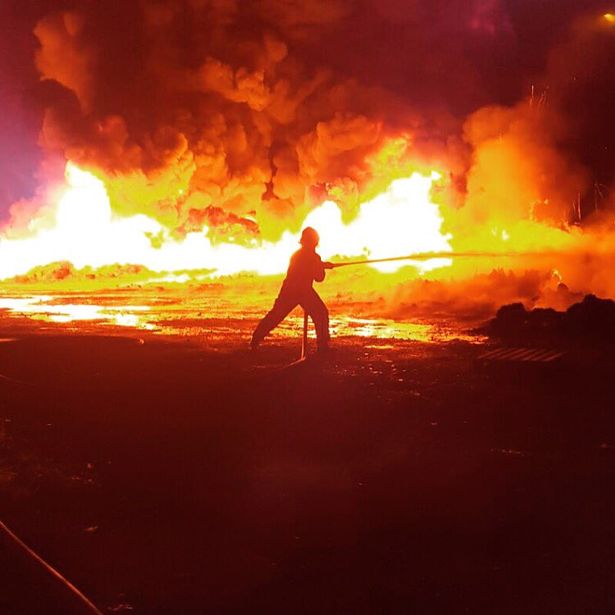 A plastic factory in the Black Country went up in flames which caused a huge ruckus. Main roads were closed and local residents were warned to keep their doors and windows shut, in case the fire spread.
Over 50 firefighters reached the suspicious fire, located at the industrial unit in Jonah Drive, Great Bridge, minutes before 11.30pm on Thursday.
A number of pumps and an aerial platform were sent to the scene at the Aeroplas factory by West Midlands Fire Service as fire crews fought against the flames, preventing the fire from spreading to local homes and neighbouring properties.
However, more than £40,000 of stock was destroyed in the blaze of the fire.
The A461 Great Western Way and New Road, near to Great Bridge island on the Black Country Route were closed while firefighters battled the blaze.
The flames of the fire could be seen igniting the night sky from several miles away.
After several hours of emphatic firefighting, the blaze was eventually brought under control.
A woman and a child were trapped in the bedroom of a semi-detached home in Chapel House Lane in Cradley Heath.
Officers managed to pull the two from the second floor window of their property, as a fire raged on the ground floor.
The mother and child were treated at the scene by medics before being taken to Queen Elizabeth Hospital in Birmingham for further treatment.
A spokesman for West Midlands Fire Service said: "When we arrived at the scene, the mother and child had already been rescued from a bedroom window by police.
"They were treated at the scene before being rushed to hospital."
Their condition is not yet known.
West Midlands police are investigating the cause of the fire.