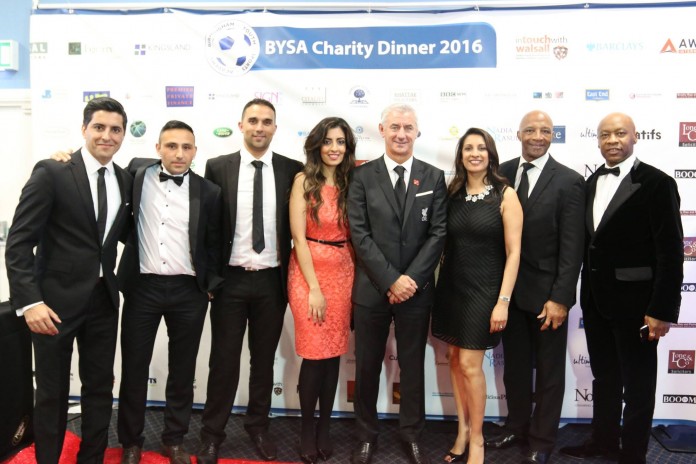 Liverpool FC legend Ian Rush was guest of honour at last week's Birmingham Youth Sports Academy annual awards dinner.  The BYSA, a community group championing grass roots football for children, held their ceremony at The Prestige Suite in Birmingham on Friday 15th April 2016 hosted by BBC Football League presenter Manish Bhasin.
After a successful celebration last year, with Liverpool FC legend John Aldridge, the BYSA decided to continue the trend of its' impressive celebrity guest dinner, to show supporters and sponsors the great work it has achieved.
Joining Ian Rush as this year's high profile celebration dinner were other sporting heroes including Villa's Mark Walters and Gary Shaw, WBA's Cyrille Regis, cricketer Kabir Ali, boxers Yafai brothers, and Tasif Khan.
However, the surprise guest on the night was the new Royal ambassador for the BYSA, HRH Princess Katarina of Yugoslavia and Serbia, who said she was 'delighted to attend the evening' which supported her on-going work for various children's charities.
This year's big boost with celebrity guests and entertainment from Socharo Dance showed a high demand for tickets and tables, which sold out in record time.
After presenting awards to the children and sponsors of the BYSA league teams, guests also got to enjoy a humorous Q&A with Ian Rush before going on to an energetic live auction.  The auction items were all unforgettable, high-flying sporting memorabilia such as Mohammed Ali's boxing glove; Pele and Maradona's signed shirts, Ronnie O'Sullivan snooker cue and many more.
With the live auction and generous donations from the raffle, a tremendous £15,000 was raised on the night. The Barclays Bank team were at the dinner in full force and have confirmed match funding to help raise additional money towards the charity.
The auctioneer for the evening was Mr Balbir Singh barrister from Equity Chambers, who was surprised to receive a 'Ballon d'Or' styled trophy for his successes, alongside chairman Ranjit Lallie.
Chairman Majid Salim's said,  "I'd like to say a special thank you to everyone for helping us raise a significant amount of money on the night that will be vital to support the BYSA programme going forward. Everyone has contributed to making it so successful again this year."
ALL proceeds from the event have gone to support this registered charity, which works tirelessly to provide underprivileged children from the inner city of Birmingham with football coaching facilities.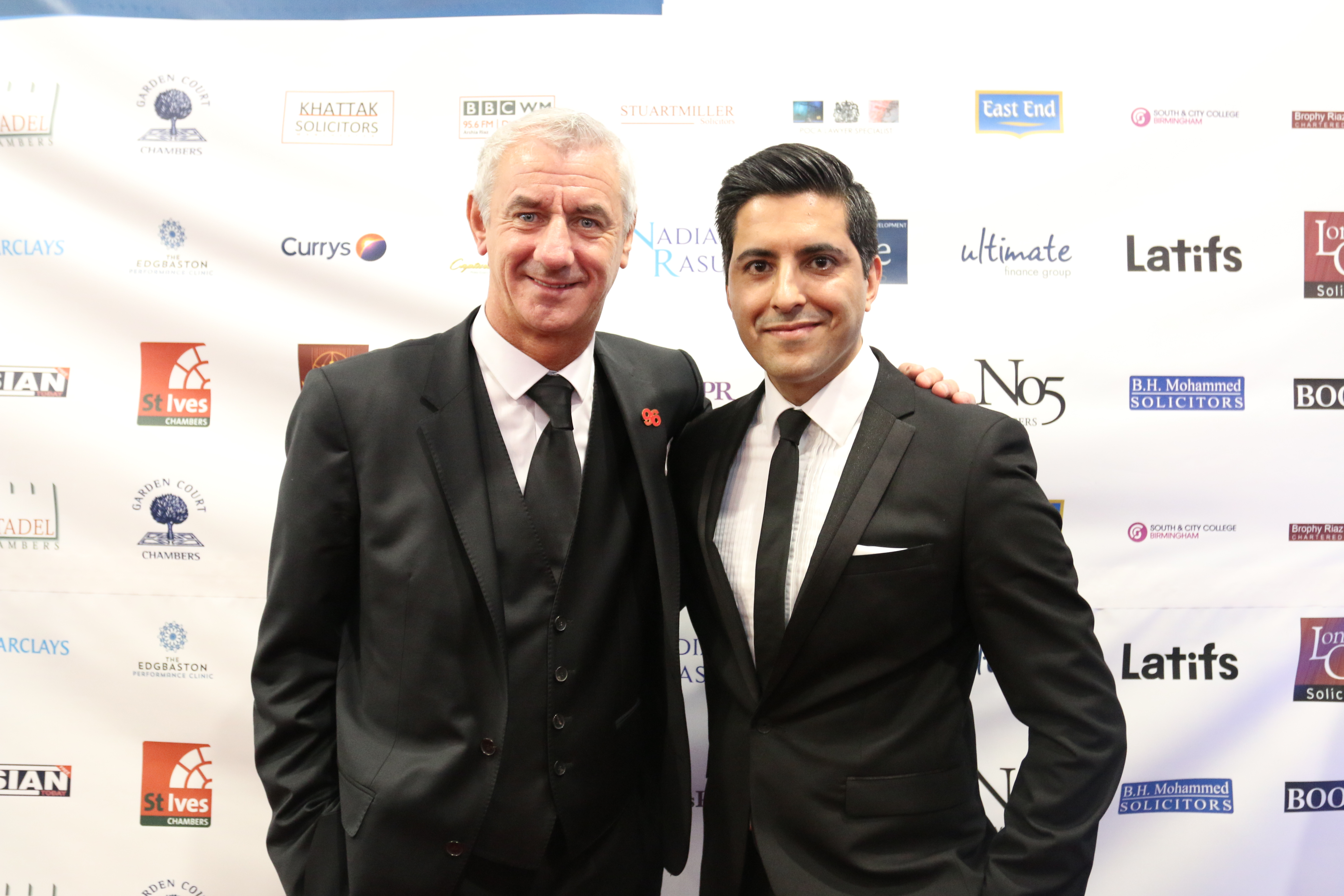 The evening was attended BBC presenter Noreen Khan and may business people from solicitors, barristers, doctors, judges, professional shop owners, accountants, consultants, networkers, educational and council funded departments and many directors and managers from companies ranging from wholesale, food and electrical outlets and football clubs. Manish Bhasin had said he was 'overwhelmed with the calibre of people and celebrities in attendance.'
Guests of honour included the Lord Lieutenant, Deputy Lord Mayor and Mayoress, James Whitaker from Barclays Bank, Richard Benson and Kevin Hegarty .
The BYSA would like to thank their sponsors in making the event a success Kingsland recovery, Awan International, Equity Chambers, Lone & Co solicitors, Pathway Group, In touch with Walsall Networking Group, Barclays and K Legal Solicitors.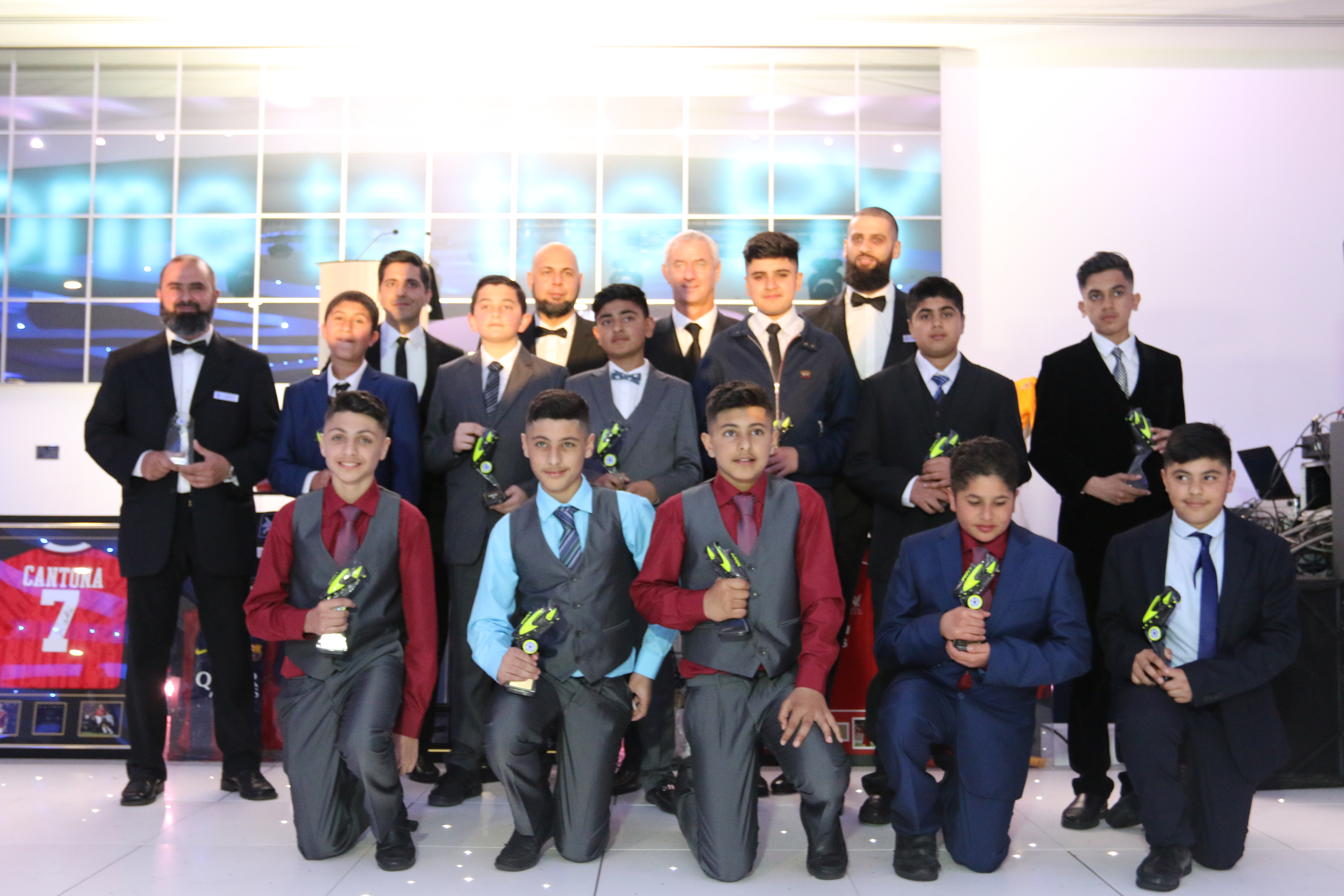 A huge thanks to BYSA committee members Chairman Majid Salim, Vice Chairman Amer Awan, Welfare Officer Anwar Khattak BEM, Secretary Hazrat Islam, Treasurer Waheed Ayub, Sports developer Mr Riaz Ul-Haq Khan, Trustee Dr. Rab Khan, Academy Co-Ordinator Bakhtyar Hussain, Head Coach Omar Quelch, Trustee Iqbal Khattak, Public Relations Niaz Khei and Project manager Shakeel Hussain.
As well as ambassadors HRH Princess Katarina of Yugoslavia and Serbia, Kevin Hegarty of QC Queen Counsel at St. Phillips Chambers, Nazir Awan Director of Awan International Limited, Head of Equity Chambers Balbir Singh, Solicitor of K Legal Solicitors Nisar Khattack, Director of Delicious PR Anita Champaneri, Barrister at Equity Chambers Ranjit Lallie, Solicitor at Lone & Co Solicitors Kamran Lone, Director of In Touch with Walsall, Ali Mahmood and Director of Pathway Group Safraz Ali.
The BYSA would still like to encourage people to get involved and support them on their continuous journey to help deliver football to children. To get in touch please follow the BYSA on social media or view www.bysa.co.uk.