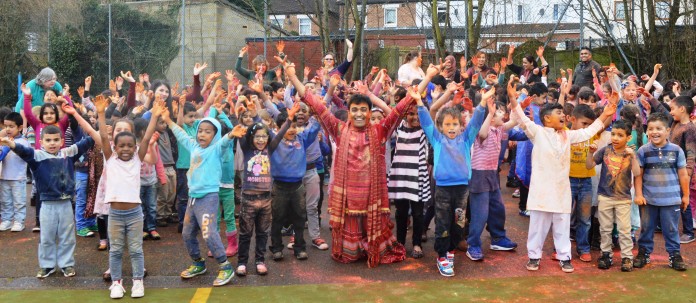 Foxdell Infant School, Dallow Road, Luton was very fortunate in hosting a Holi Festival on Thursday 24th March 2016. Holi is traditionally known as the 'Indian Festival of Colours'.   During Holi Hindus celebrate the ending of winter and the coming of spring by showering each other with bright coloured powder; they throw coloured powder onto friends and family to make them colourful.
Mrs Dewji and Ms Khanam organised a choreographed Bollywood Dance Workshops performed by K'z Dance Entertainment based in harrow. The children had the opportunity to learn dance moves throughout the day in specialised workshops.The children danced to the bollywood songs like 'Twist', 'Jai Ho' and 'London Thumakda' learning some impressive moves! "I could not believe how well they remembered their routine Foxdell has some very talented dancers!" said Mrs Dewji (RE Coordinator).
At 2pm the whole school gathered in the playground for the Grand Finale. Eventhough, there were some rain showers the mood was not dampened.  The children and staff danced to some very catchy Bollywood music led by the very energetic Kalpesh Zalavadiya of K'z Dance Entertainment.
Finally, the anticipation was over the Holi celebrations started dusting the playground with vibrant colours. There were many happy faces and the children could not believe they were allowed to throw powdered paints at each other. Abu Zarr 7 said "This is so much fun, are you sure I can throw this?" Ms Justine Abbott (Head Teacher) said "Today's event will be one memory the children will carry forever."
For more details visit www.kzdance.co.uk