Headstrong heroines, meddling mothers, star-crossed lovers, suitors in disguise – when it comes to the wonderful world of Bollywood, nothing beats a romantic comedy! Hammed up to the hilt, glorifying in artifice and packed full of spectacular song and dance numbers, it isn't hard to see why theatre producers across the world have taken the genre to heart.
With the rise of shows like Bombay Dreams and the smash-hit West End musical Bend It Like Beckham ushering in a new dawn for the British musical, the nation's appetite for Bollywood spectacle shows no signs of slowing. It is from this rich cinematic culture that life-long Bollywood fan and Theatre Director Samir Bhamra drew inspiration for his latest musical mash-up, Bring On The Bollywood, which makes its world premiere at the Belgrade Theatre from Sat 23 – Sat 30 April 2016.
Described as 'a Bollywood-inspired musical comedy', this latest offering from Phizzical Productions – one of the UK's leading producers of South Asian theatre – fuses contemporary stories of love as seen through the eyes of 21st century British Asians, with the romance and magic of Bollywood cinema past and present.
Best known for their unique and accessible adaptations of well-loved literary classics, Phizzical's latest show takes its inspiration from two – not altogether different – worlds; Bollywood and Shakespearean comedy.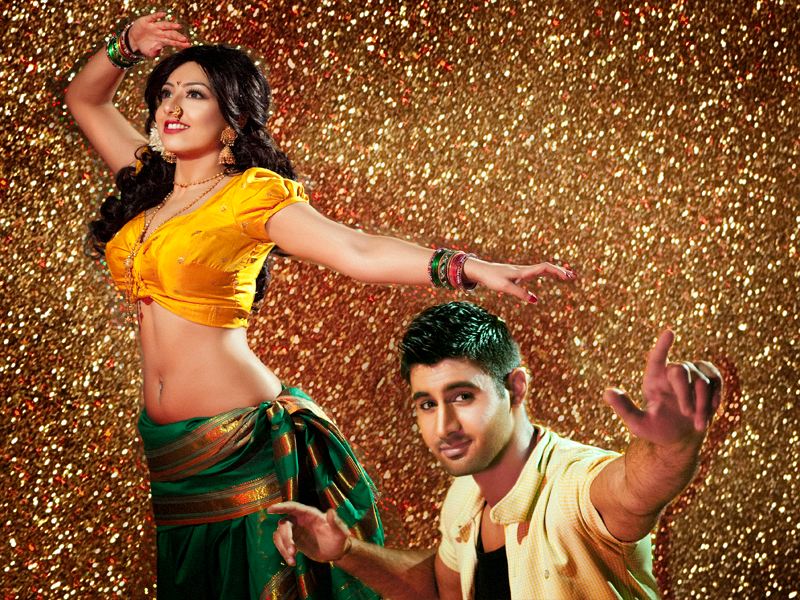 'Bring on the Bollywood is really one of those Shakespearean romantic comedies where everything that can go wrong in the life of the protagonist, does go wrong' remarks Samir.
'The structure of the show borrows heavily from Shakespearean comedy. Love, disguise, destiny – and of course – romantic resolution in the form of marriage, these are all staples of the Bollywood tradition. There are nods to 'Much Ado About Nothing', 'The Two Gentlemen of Verona' as well as 'The Comedy Of Errors'. We've also been inspired by Oliver Goldsmith's 18th Century comedy, 'She Stoops To Conquer'. It's a wonderfully witty story of marriage and mistaken identity in which a young gentleman called Marlow ends up mistaking his future father-in-law for an inn-keeper and his prospective wife for the local barmaid, all thanks to his mischievous step-son, Tony Lumpkin.'
In Bring on the Bollywood, we encounter a similarly dysfunctional family unit. Dr Katrina Pawaar has been living in the UK for fourteen years. She moved to Britain when she was 18 years old to study to become a doctor. Now she's on her way home to India to her younger brother's wedding, a boy who's twelve years younger than her and twelve years luckier because she's still single at 32 years old, much to the distress of her match-making mother, Lalita.
Into their world walk the eligible 'Ronny' Kapoor – a lost soul searching for meaning – and his friend Amit, disguised as Bollywood film producers searching for a taste of the authentic India for their next blockbuster. But things are not all they seem and it isn't long before the true meaning of their visit is revealed….
So begins a love triangle of epic proportions as estranged lovers are re-united, ex-partners are expelled and new love blossoms against the odds in this ludicrously romantic romp through the comical and enchanted landscapes of Hindi cinema.
'As in the case of most romantic comedies, the happiness of the Pawaars really hangs on the final scene in which hidden truths are brought to light, romantic misdemeanours are forgiven and true love finally has its day.' says Samir. 'The difference being, in this show, all this romantic confusion takes place against the enchanting, colourful backdrop of Bollywood, which really adds to the humour and pathos of the piece'.
So what was it that inspired Samir to take on this contemporary tale of love and matrimony across the cultural divide?
'The idea for Bring on the Bollywood came about from real-life stories of young professionals like Katrina who often find it difficult to find prospective partners' says Samir.
'Unfortunately, in a lot of cases, men tend to have a problem with marrying an educated, professional like Katrina. After all, they earn more than they do, they work longer hours than they do and they can't expect the husband to do the cooking can they?'
As a self-proclaimed Bollywood expert, Samir's life-long love affair with the mutli-million dollar Mumbai film industry stretches back as far as he can remember. In fact, one could almost say it was written in the stars…
'It was always meant to be!' says Samir chuckling. 'My mother's waters broke during a film screening of Qaid (1975) in Kenya, where I grew up. Later that night, after I was born, they ended up naming me after the lead actor in the film, Sameer Khan.
'My mother absolutely loved her Indian cinema – every night she'd watch at least one Bollywood movie. From the minute I was born, I don't think there's been a day that I haven't watched or come into contact with a Bollywood film of some sort'.
So what were some of Samir's biggest influences in writing Bring On The Bollywood?
'Films like Dilwale Dulhaniya Le Jayenge have inspired many generations of young Asians to dream of their perfect romance and happily ever after. This was a great starting point for the show. More recently, I've been inspired by romantic epic films "Jab We Met" and "Yeh Jawaani Hai Deewani" as well as family entertainers such as "Chennai Express"'.
'The 2016 re-make of "Kapoor and Sons" was also a big influence. It captures the dynamic of a dysfunctional Indian family so well. I even made the acting company watch it as prep!'
Indeed, one only has to glance at the script to see just how far Samir's encyclopaedic knowledge of the industry extends. From the celebrated showmanship of Raj Kapoor – original Bollywood heartthrob and leading man – to the unmistakable magnetism of Shar Rukh Khan, references to Bollywood icons past and present weave their way through Samir's script like some fine infusion, colouring each musical number with a sense of history and tradition stretching back over 100 glorious years.
Yet despite this rich history, Samir is keen to point out that Bring On The Bollywood is every bit a musical for today.
'It's really a marriage of two cultures. We as British Asians love our Bollywood cinema just as much as we love our Western culture and this production is very much a celebration of both.'
'I'd say that this is probably the first contemporary Bollywood musical that speaks absolutely of today's global Asian population. For this show, we've spent an awful lot of time going out to speak to young people about their love affairs with Bollywood, asking what is it about Bollywood that keeps them connected to their Indian culture?'
'Ultimately, I think the secret to Bollywood's enduring success as its ability to evolve and adapt to the world around it and, as a company, we've really tried to embrace that spirit in our approach to this show'.
Boasting a 16-strong cast of emerging British Asian theatrical, film and TV talent with original music by recording artist Robby Khela and composition by the Olivier award-winning Niraj Chag, Bring On The Bollywood fuses classical tradition with the best in contemporary music and dance culture. From traditional Indian Kathak dancing to vintage Bollywood by way of classical ballet and contemporary hip-hop, this is a Bollywood musical for the iPod generation.
And of course, any homage to Bollywood wouldn't be complete without an obligatory smattering of hindi 'bling'.
'When I'm making a Bollywood show I'm really hands on with certain things and one of those things is costume. I love my costumes – it's an obsession really' remarks Samir, who – as we speak – is busy fitting copious quantities of coral-coloured, hand-embroidered satin to a nearby dancer and first-time Sari wearer.
'When it comes to styling Bollywood, it's all about making a statement. Bollywood is wish-fulfilment. It's about escapism and fantasy made flesh so when I put an outfit together for a show, I want audiences to be thinking, "I want that for my wedding", "I want that Sari", "I want to wear that dancing in the rain!"
A lucrative industry in itself, Bollywood is as much famous for its bold and flamboyant fashions as it for its films. From the elegant anarkalis of the late 50s through to the designer saris and billion-rupee brands of today, Bollywood has always been synonymous with style and according to Director Samir, this show is no exception.
'On a recent count, the show features around 120 costumes, weighing in at a collective 240 kilograms! I spent some time a few years ago working with Academy Award winner Bhanu Athaiya on designing the costumes for our 2012 production of "Cymbeline". For this production, I've decided to apply my learning and go it alone'.
'Many of the fabrics for the costumes featured in the show were hand-sourced by me from India. Some of the costumes are incredibly intricate. There are a number of outfits which have been hand-embroidered from scratch to a customised design. When choosing fabric, it's so important to think about the visual effect you're trying to create on stage, particularly when it comes to the dance numbers. The fabrics need to flow with the dancers, move with the rhythm of the music – really fill the space. And, of course, they need to be colourful! All of this adds to the romance and magic that is Bollywood!'  
And what about make up? Will Samir be breaking out the brushes and blusher backstage? 
'We're really fortunate to have Bollywood makeup artist – Tanvi Gutka working with us on this show. Tanvi recently worked with super-star Bollywood actor Salman Khan on the film "Bajrangi Bhaijaan". She will be designing the individual looks for each actor on stage.'
So, what does Samir hope audiences will take away from the show?
'Ultimately, I want audiences to come away from the show feeling like they've had a fantastic night out. The wonderful thing about Bollywood is that it absorbs you completely. Whatever your worries, whatever stress your day-to-day life throws at you, switch on a Bollywood movie and you escape the world, if only for a few hours. Of course, the show features all the classic hallmarks of Bollywood cinema including plenty of melodrama, romance, stunning costumes and nine full-scale song and dance numbers. But aside from this, I hope that the show will appeal to a wider audience. Whether you're a life-long fan or completely new to the genre, what's great about Bollywood is that it's so accessible. Let it into your life and you can't help but fall in love with it'!
Bring on the Bollywood premieres at the Belgrade Theatre from Sat 23 – Sat 30 April 2016. For tickets, call the Belgrade Box Office on 02476 55 3055.