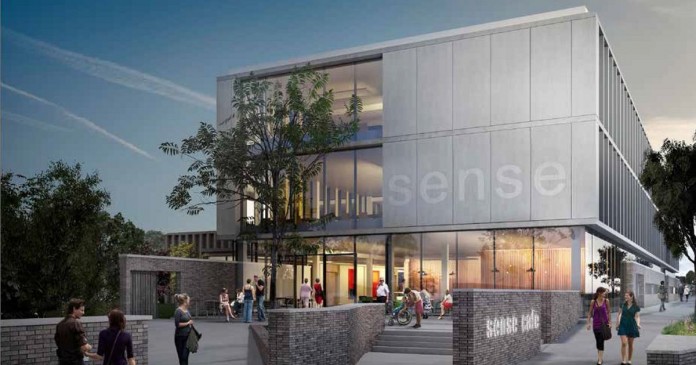 National charity, Sense, will hold ground-breaking ceremony on Friday
Birmingham City Council Leader, John Clancy, will attend ground-breaking ceremony in Selly Oak where the new 'TouchBase Pears' centre will be located
The major new centre for disabled people in the West Midlands is due to open in 2017 and will provide specialist services for people with sensory impairments and wider services for the whole community, creating over 130 new jobs in the local community
£14 million centre continues the regeneration of Selly Oak and will create over 130 new jobs in the local community
n Friday, in Selly Oak, national deafblind charity, Sense, will hold a ground-breaking ceremony to launch construction of a new major centre for disabled people. The TouchBase Pears centre, which is due to launch in summer 2017, will provide vital services to help disabled people in the West Midlands lead more independent lives.
Birmingham City Council Leader, John Clancy, will be joined by Sense Chief Executive Gill Morbey, and champions of the project to mark the official start of the build. The deafblind 'champions' have contributed to the planning of the project, and at the event will bury a commemorative time-capsule, which highlights visions of what they hope the world will be like for disabled people in the future.
Announced in December by the charity's Patron, HRH the Princess Royal, the project is estimated to take 18 months to complete and is a key part of the regeneration of Selly Oak. In addition to creating over 130 jobs in the local area, it will also provide a welcoming hub for wider community services, such as a café, arts and performance area, sensory garden and gallery.
Every element of the centres fully-accessible design has been developed in consultation with children and adults with a wide range of disabilities to ensure it fully meets their needs. Sense will use the centre to run a number of specialist services, supporting people with sensory impairments to learn new skills, build their confidence, develop communication skills and take part in community-based activities.
The cost of construction is expected to total £14 million, and the charity has a fundraising target of £5 million. £1.4 million has already been raised from trusts and foundations.