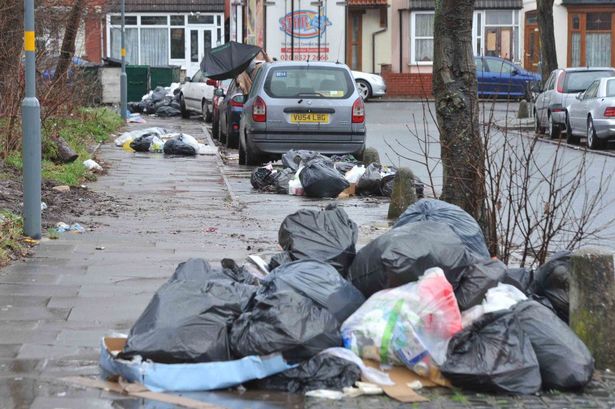 A Birmingham man has been ordered to pay £230 after pleading guilty at Birmingham Magistrates today (21 January 2016) of illegally dumping waste, including cannabis plants, on a Cotteridge car park.
Daniel Hughes, 32, of Wadham House, Woodlands Way, Chelmsley Wood, was prosecuted by Birmingham City Council for an offence under the Environmental Protection Act 1990 of dumping controlled waste on a car park in Hudsons Drive, Cotteridge between 1 January and 15 January 2015.
Hughes was fined £110 and ordered to pay £130 towards court costs.
Environmental health officers visited the car park in Hudsons Drive on 14 January 2015, following a complaint of fly tipping, where they found approximately 30 black bags of rubbish.
When officers opened the bags they found three contained domestic waste, but the rest of the sacks contained controlled waste including prescription packets, cannabis plants and cannabis growing paraphernalia and evidence linking to Hughes.
Cllr Barbara Dring, Chair of the Licensing and Public Protection Committee, said: "There is no excuse for people to dump their waste on public streets or land, regardless of whether it is their own household waste or waste cleared commercially for someone else.
"There is a free to use Household Recycling Centre in Lifford Lane, less than a mile away from where the waste was dumped, where residents can dispose of their household refuse responsibly.
"We will use all the powers available to us to take enforcement action and prosecute anyone who does fly tip in Birmingham.  Anyone who sees rubbish dumped, can report incidents in confidence by emailing reportflytipping@birmingham.gov.uk"
Cllr Lisa Trickett, Cabinet Member for Sustainability for Birmingham City Council, added: "We need to love and respect our neighbourhoods, so it is disappointing to see rubbish being dumped on our streets. There is no excuse for anyone to dump their waste.
"We will use all the powers available to us to take enforcement action and prosecute anyone – businesses or individuals – fly tipping waste in Birmingham. Keeping our city's streets clean is everyone's responsibility so we will continue to clamp down on litter bugs and fly tippers, targeting areas where there is a persistent problem."