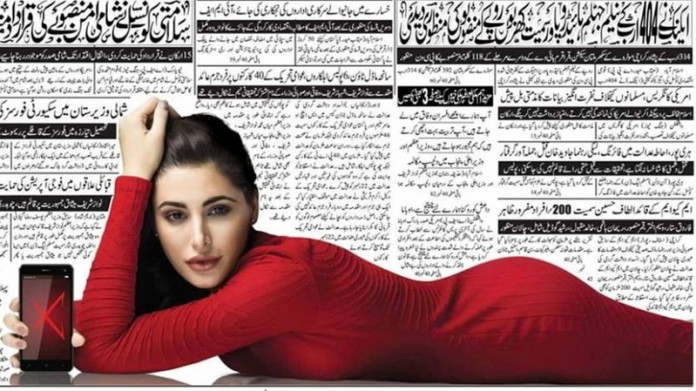 Nargis Fakhri has been making front-pages, but for all the wrong reasons. The starlet caused nation-wide controversy last week by appearing in a rather provocative front page ad in the popular Pakistani news paper Jang.
The attention-grabbing ad for mobile giant Mobilink, showed Fakhri strewn across the front page in a red figure-hugging number whilst clutching a mobile phone.
It's fair to say the ad was ill-received, with Critics accusing it of "dirtying the newspaper." Audiences too felt it was "tacky, tasteless and unsophisticated" and called it out for objectifying the actress.
Fakhri herself seemed to agree. In a statement the actress said:"As a model or celebrity, I have always believed in using my persona to help further a brand's communication but never to have it used where I end up being objectified for my looks."
Amongst the critics was Jang's prominent journalist Ansar Abbasi. He openly condemned the ad and later tweeted "Learnt that Mobilink has been told by different newspapers that they can't take its absurd ad anymore. Alhamdulillah our protest worked."
We're yet to see whether Fakhri's ad Faux pas will jeopardise her 3 year run as brand ambassador for Mobilink.