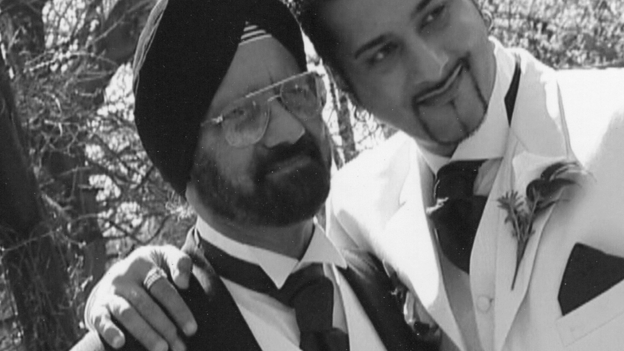 Saminder (Sam) Sagoo, one of the most popular Asian radio presenters in UK sadly passed away on Saturday, the 5th of December.  The funeral was on Wednesday, the 16th of December.  Apart from the family and friends, Sam Sagoo has left millions of fans and well wishers all over the world.
Sam Sagoo was a legend in his lifetime with respect to the knowledge and possession of Bollywood film music of the Golden era.  The songs you couldn't get anywhere either on the electronic media or even in the shops, you could hear on Sam Sagoo's programme, "Bhuli Bisri Yaadein" (old memories).  There was not a song, which Sam Sagoo couldn't play for his listeners on his programme.
Sam Sagoo came from Africa to UK and he said he only brought his music collection with him.  He was proud of his music collection and he treasured and shared it.
In recent times, "Bhooli Bisri Yaadein" was broadcast twice a week on Friday and Sunday respectively from 8:00 to 10:00 pm on Radio XL, a Birmingham based Asian radio station.  The presenter was none other than one of the longest serving and the most popular presenters of Radio XL, Sam Sagoo ji.  On Sundays, Sam ji was helped by the wonderful Davinder, who took listeners' phone calls and messages.
The programme featured Bollywood film music right from 1940s (sometimes even 1930s).  It included listeners' request ('farmaishi') songs, their messages and dedications.  Listeners could speak to the presenters off air and could contact them by email, text or letter. Sam ji mentioned every message and responded to them.  He noted down their song requests and fulfilled them in the forthcoming programmes as he used to prepare his programme in advance.   But he did dedicate song or songs to those who contacted him that day or were simply the regular listeners and could not make up that day. He used to wonder why they could not contact him. His listeners were spread all over the world.
To create a truly nostalgic atmosphere, Sam Sagoo's programme featured a horse carriage (tonga) on which listeners used to book their seats and there was a doctor on duty from amongst the listeners to take care of any casualties.  Sadly on 16th December, San Sagoo could not book seats on his famous tonga for his listeners, who used to queue up for the same.  On the contrary, it was his funeral which was carried in the tonga.  The horses were in mourning and so were the drivers of the carriage.  Following the tonga were the cars and a full coach of Sam ji's family members, friends, admirers and fans.   The carriage stopped by his music shop so that Sam Sagoo could pay his last farewell to his most cherished and ambitious vocation, his eternal love, music.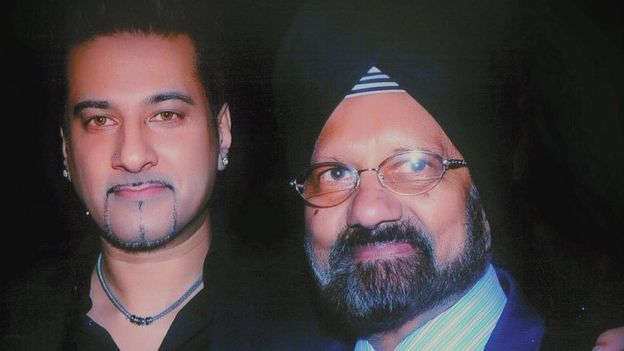 Coming back to the programme, one of its regular features was "Dard ki Surgery" (pain surgery), in which sad songs were played and it started with a song by "Surun ki Dev1" (queen of melodies), as Sam ji used to say, Lata Mangeshkar.  After 9:00 pm it was the silver screen time, i.e., the songs were played from the black and white movies.  The programme regularly featured the film songs composed in classical music as well as the non-film classical numbers like the raags sung by the master classical singers of the likes of Ustad Bade Ghulam Ali Khan.   Great singers of the yester years, K.L. Saigal and C.H. Atma too were regularly featured and listeners made requests for their songs.
Full information was given about all the songs played / Apart form the singer/s and the film, information was provided about the year the film was released, music director and the poet of the song as well.  In most of the cases, detailed information was given on the aspects surrounding a song, such as, the actors it as filmed on, the history of the making of that film, etc. Sam Sagoo ji had a wealth of knowledge which he shared with his listeners.  He used to say he had only one 'vice' during his childhood: to watch the movies, that 'vice' was the only deed which was serving him now.
Once a month, Sam Sagoo played the songs he liked, which were based on a theme or word, etc.  Once he played the songs sung by Lata Mangeshkar composed in classical music.  Another monthly feature was "Saaz aur Awaz" (songs in vocal and instruments).  That was also very popular with listeners, who used to miss it if it didn't feature in a particular month.  In this feature, first a song was played instrumentally and Sam Sagoo ji used to tell which instruments were used and then the original vocals of the song were played.
In the programme intervals, classic old theme music of popular Radio Ceylon was played.  So the programme really took its listeners to the Golden era of film music and to their memories as Sam Sagoo ji advised them, "Yadon mein kho eeee jain" (get immersed in your memories).  Actually one of the regular listeners confirmed the same when she shared her memory on Radio XL about "Bhooli Bisri Yaadein".  In a tearful voice she said she used to create a romantic and nostaligic atmosphere by turning off the lights and lighting candles to listen to the programme.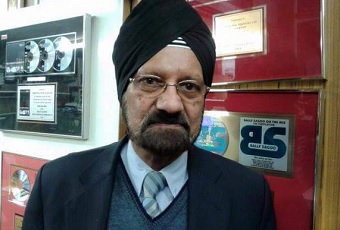 Sometime back he had started to narrate, once a week, the history of Bollywood film industry and especially the music right from the start of the industry and after taking through the early years had entered the 40s era.
Apart from entertainment, Sagoo's "Bhuli Bisri Yaadein" also served the social and humanitarian causes.  In 2010, the programme raised money for the floods affected people in Pakistan.  Most recently it managed to raise on the same pattern, money for Nepal Disaster fund.
The procedure was that listeners put their money (minimum £3 on a song) on a song or songs selected by Sam Sagoo.  There were thirty songs and Sam said he selected those on the basis of listeners' requests over the years.  Then based on the money pledged, the songs were rated from 30-1.  The Nepal Disaster Fund programme was spread on three Sundays featuring 10 songs each.
The songs were played from 30 onwards and names of those who pledged money for that song were read out.  The amount they pledged individually was not mentioned, but the total money pledged on that song was revealed.  The programme was a hit and listeners showed great interest.  Everybody was waiting anxiously to know the number one song.
At last after an impatient wait the Number One song was announced and it was a hit form the 1946 Movie "Anmol Ghadi".  Sung by Noor Jahan and Surendra Nath, the song was written by Tanveer Naqvi and the Music Director was the all time great, Naushad Ali.  I am sure everybody must have guessed the song by now: "Awaz de kahan hei".  The song received £464 and one listener actually put all her £200 + (if my memory serves me right) on that song.  Of course Sam Sagoo only said this listener has pledged all her money on one song, so somehow it was revealed she put her money on that song.  After the hard work of Sam Sagoo ji, the total money this programme managed to raise was £2294.
Apart from "Bhooli Bisri Yaadein", Sam also presented a Punjabi programme on Tuesday night on Radio XL and said in that programme too mainly the old songs were played.
As said above, Sam Sagoo ji had a huge fan base. Apart from UK, fans listened to his programme in Africa, Canada, USA, Pakistan, India, Australia and many others far flung places.  He was truly a global music icon. RIP, Sam Sagoo ji.