 Visitors enjoyed an exciting Diwali celebration as event marks 2nd anniversary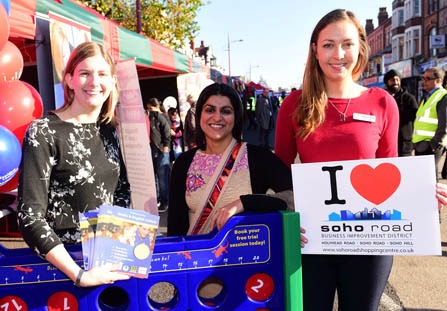 On Sunday 1st November 2015, Soho Road came alive with lights, the sound of music and dance organised by Soho Road Business Improvement District area in association with main sponsor MoneyGram.
Over 9,000 visitors enjoyed an exciting Diwali celebration. Soho Road was closed to traffic for the day which allowed  the Soho Road Business Improvement district  to have a children's  fun fair, with a variety of rides and attractions that kept the families entertained in the beautiful sunshine that lit up the day.
The street market area had a variety of food and retail traders, offering the very best in street food and Indian cuisine.

The stage was sited at one end of the road closure and the days programme began at 12.30, with various local and international performing artists DR ZEUS, H DHAMI, JK and  RAXSTAR who filled the air with song and dance much to the appreciation of the large crowds.
Dipak  Patel Chairman of Soho Road BID said: "I am delighted to see Diwali on Soho Road marking our 2nd year celebrations; it is a magical celebration which brings together the vast and diverse communities and showcases traders on Soho Road and we are very proud that this is now the largest Diwali celebration in the west Midlands.
"The BID is home to over 500 independent businesses stretching from Holyhead Road to Soho Hill . The Soho Road BID is very proud to be the first diverse local centre to become a BID in the country."