 And The Winners Are..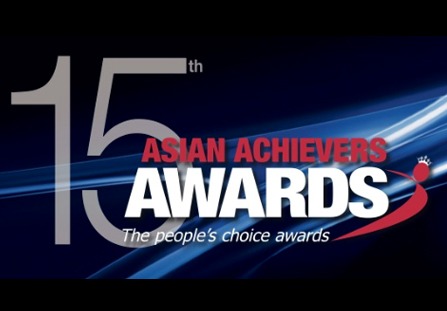 The winners of the landmark 15th annual Asian Achievers Awards were announced on September 18th at glittering gala event at the Grosvenor House Hotel in London's Park Lane. Winners include, cricketing icon, Moeen Ali; Secret Sales founders Nish and Sach Kukadia; author Romesh Gunasekera; and Lord Rumi Verjee CBE, who was honoured with the Lifetime Achievement Award.

One of the notable wins of the night was Military Cross hero Lance Corporal Tuljung Gurung, who picked up the Uniformed and Civil Services Award, for his bravery in fighting off two armed Taliban fighters and saving the lives of his two comrades. The award was made more poignant, as the evening's theme revolved around the contribution of Asians in Uniformed and Civil Service.

Chief Guest, Rt Hon Michael Fallon MP, Secretary of State for Defence gave a stirring speech.

The Asian Achievers Awards was brilliantly hosted by Eastenders star Nitin Ganatra and BBC journalist Sangita Myska, and was proud to have EY as the headline sponsor. Attendees included, Naughty Boy, Lord Jeffrey Archer, Greg Dyke India's original supermodel, Nina Manuel, and dignitaries like Cherie Blair QC, CBE, London Mayor candidate, Sadiq Khan MP and His Excellency Ranjan Mathai, the Indian High Commissioner.

ABPL Group, which organises the Asian Achievers Awards, also introduced the Asian Voice Charity Awards, which is launching in 2016. These awards, powered by Asian Charity Clarity, are about rewarding charities that think big and seek to solve the most pressing social issues of today, both in Britain and around the world.

Since launching in 2000, The Asian Achievers Awards itself has helped to raise millions of pounds for various charities, and this year the chosen charity partner is the Loomba Foundation, which works with widows and children. The Asian Achievers Awards is proud to have Sunrise Radio and Colors TV as Media Partners.

CB Patel, Founder of the Asian Achievers Awards, said: "In the last 15 years the Asian community has come a long way. Tonight's awards are the example of the brilliance that our community is capable of. Whether it's entrepreneurial spirit or sporting integrity, community service or leading in business – we are making a mark everywhere.

"The Asian Achievers Awards began 15 years ago in very modest surroundings, so the grandeur and scale of tonight's event, celebrating such remarkable individuals, makes me incredibly proud of how far we've come, and it would not have been possible without you and your support. We have been fortunate enough to recognise some wonderful people over the years and I am certain that in the years to come we will be celebrating even more outstanding Asian achievements."
ASIAN ACHIEVERS AWARDS 2015 WINNERS LIST

Businessperson of the Year

Iqbal Ahmed OBE, Seamark Plc

Entrepreneur of the Year

Nish & Sach Kukadia – Founders Secret Sales

Sports Personality of the Year

Moeen Ali – England Cricketer

Uniformed and Civil Services

Lance Corporal Tuljung Gurung – – The Royal Gurkha Rifles

Lifetime Achievement Award

Lord Rumi Verjee CBE

Media, Arts and Culture

Romesh Gunasekera – Author

Woman of the Year

Bindi Karia – Technology Startup Expert and Advisor

Achievement in Community Service

Jasvinder Sanghera CBE – Founder, Karma Nirvana

Professional of the Year

Satvi Bungar – Director, BDO