 By Keith Stokes-Smith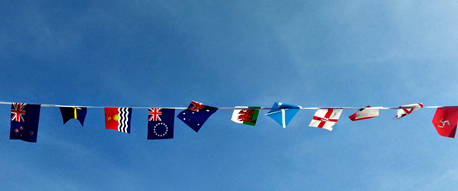 Let's go back to 1951; admittedly most of us were neither born or in employment then. Export of goods from the UK to our 53 Commonwealth partners accounted for 42% of total exports. Sixty years later, by 2011, this figure had dropped to just 8.8%. Similarly, imports into the UK from our Commonwealth partners had fallen to one third of what it was.
Of course, the main reason for this shift in export emphasis is obvious; the EU. By 1991 the UK's export of goods to the Commonwealth had fallen to single figures (9.2%) and remains in single figures today .It is only as a result of the export and inclusion of 'services', that the total is pushed into double figures , 10.5%.
In 1960 Australia, Canada, South Africa, India and New Zealand were all top ten markets for UK goods. By 1980, not one of these countries was a top ten export market. Even in 2011, India only accounted for less than 2% of UK goods exports. Eight of the top ten goods exports markets for the UK were by then members of the EU.
Why have we neglected and continue to neglect our Commonwealth partners and the opportunities they present.
Yes, whilst it may be unrealistic to imagine that the other Commonwealth countries would have the capacity to trade with the UK at a level on which our economy depends, it is the case that Continental Europe is in long term economic decline. Ruth Lea, British Political Economist working in the financial sector and a Non-Executive Director on the board of the Arbuthnot Banking Group has even suggested that by 2025, the Commonwealth will have surpassed the EU as a percentage of world gross domestic products. With four times the population of the EU, in the age of Containerisation and cheap sea trade, the Commonwealth presents an enormous and largely unrealised market for British business and a chance to not put all our eggs in one basket.
So, what are we waiting for?
Are our businesses too risk –averse?
Is our understanding of Commonwealth Markets outmoded?
Is our government overlooking the potential in Commonwealth Countries?
Let's look at some of the obvious reasons to trade with the Commonwealth.
Emerging Commonwealth nations are becoming more prosperous increasing opportunities for British exports
English is the language of the Internet and Business significantly reducing language barriers and therefore increasing the opportunity to gain a foothold.
Over half of Commonwealth Countries use a 'Common Law' system or are common law based.
A significant number of Commonwealth Countries outperform key European nations in certified world rankings including Singapore, New Zealand, Canada, Australia, Malaysia and Mauritius.
The Commonwealth has some of the world's largest producers of raw materials.
Birmingham/Greater Birmingham has its own Commonwealth, its distinctive Commonwealth Diaspora, with a substantial number of its population coming from or having a background connected with India, Pakistan, Bangladesh, Africa or the Caribbean. These Commonwealth connections should be regarded as strength when it comes to trading with these countries/continents.
Not all of the above has gone unheeded by business in the West Midlands .In 2014, £28,551,657,000 of exports from our region went to Commonwealth Countries. This represented 7.4% of total West Midland exports, slightly below the UK average.
I am not suggesting all 53 Commonwealth Countries are going to open their doors and throw lots of money at us to make life easier to export to them. Some countries may be more challenging than others but then the rewards may be more substantial. Each country needs to be looked at on its merits.
Today, India, Canada, South Africa, Australia, Singapore, Nigeria, Malaysia, Cyprus, Malta, New Zealand, Pakistan and Ghana are the top 12 main markets for UK Commonwealth exports with India, Canada, South Africa and Australia accounting for 63% of the total. Goods exported include parts for aircraft, medicaments, gas turbines, turbojets/propellers, apparatus for communication, oils obtained from bituminous minerals, motorcars, electronic integrated circuits, data processing machines, solid fuels manufactured from coal and parts and accessories.
Where do we, the BCA, fit in the equation. The Association was founded just over 12 months ago, supported by Birmingham City Councils International Team, with the aim of:
1. Strengthening and maximising Birmingham's engagement with Commonwealth Countries;
2. Supporting enterprise and business that wish to trade and in particular, export to Commonwealth countries
3. Facilitating better joining up and co-ordination of the aims and actions of all stakeholders like the FSB in and around Birmingham to yield 'added value' defined, prioritised and achievable outcomes
4. Encouraging inward investment into Birmingham/Greater Birmingham from Commonwealth nations
5. Promoting 'corporate' Birmingham/Greater Birmingham as a place to do business with and to set up business in.
UK business and UK products/services are viewed by our Commonwealth partners in a positive way.
There are numerous organisations who can assist SME's in sourcing the resource and knowledge they require in order to explore Commonwealth business opportunities; not only is the BCA able to put you in their direction but it also holds its own 'country presentations' from time to time .Should you wish to go on our 'mailing list' about our activities, please contact Mike Murray on
mike.murray@birmingham.gov.uk
or Heather Law on
Heather.Law@birmingham.gov.uk