 Former Face of Cancer Research "Planning Funeral"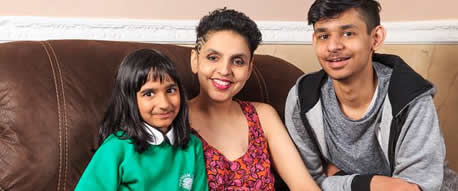 The former face of Cancer Research has said she is drawing up plans for the 'perfect funeral' after she confirmed the disease had returned.
Seema Jaya Sharma has been sorting out a DJ, a playlist and checking off her to-do list in preparation of her final send off.
"My hair is going to look just right and I've got my outfit ready," she says.
"I've sorted the DJ, the playlist, I've got the caterers checked and booked, the video to thank everyone for coming… everything's sorted. I've planned plenty of parties but this one's a bit different.
"Because this is one is my funeral."
38-year-old Seema is a mother of two and was once the national face of Cancer Research. She amazed doctors when she went on to beat the disease three times.
However, she was given the dreaded news a couple of weeks ago when doctors confirmed the condition was back and nothing could be done to cure it this time.
She has prepared her children Kalvin, 17, and Shanti, eight, for her death and wants people to remember her as a fighter and not a victim.
"The doctor said let's do a CT scan, and there it was, 'Tumours in the brain, sorry, we can't do anything.' I was upset for my mum at first, and my kids. But there's no point dwelling on it."
"At the moment I have fluid all around my lungs and my heart and the cancer is in the lungs, the liver and all over my bones.
"But what's killing me most is the seven tumours in my brain. Because it's in the brain, they don't know when it could hit. Or the lungs could collapse or the heart could give up. It could be anything at any time. I could be gone when you're reading this. But, you know, I'm all right with it.
"Radiotherapy would give me maybe another few weeks, but for the side-effects. I don't want that. I don't want to lose my hair now – I just got my fade done right!"
"We are all going to die one day. I don't see why it should be perceived as such a negative. I've suffered a lot and now I'm ready to be free. It's not a bad thing. It's the next thing in the cycle.
"I'm excited to see what happens next, rather than sitting here in pain. Soon I won't be able to do much. So what's the point in hanging around?
"People talk for years about 'I lost my mum to cancer' and it consumes them, puts them in a rut. I can't have that.
"If they're like that… I'll be coming to haunt them!"