 Winners Announced at Annual Event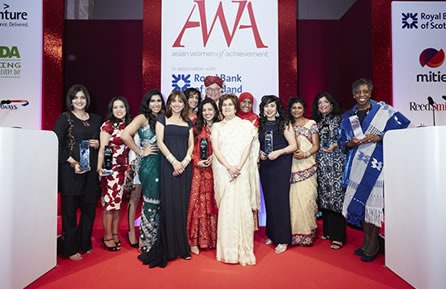 The winners for the 2015 Asian Women of Achievement Awards have been announced after a successful event, yesterday evening.
Now in its16th year, the event aimed to highlight the often overlooked contribution that Asian women make to sectors including business, sport and culture.
The awards, were founded by Pinky Lilani, who received an OBE in 2007 for her work to celebrate women's achievements.
Speaking on the announcement of the list, Pinky said, "What really makes me happy is seeing these women who are hugely talented but are so collaborative, very kind and humble. They all seem so honoured to be involved."
Winners List:
RBS AWA Chairman's Award
Jyoti Shah (Consultant Urological Surgeon at Burton Hospital NHS Foundation Trust) 
Arts & Culture Award
 Sajeela Kershi (Comedian)
Business Award Award
Sevasti Wong (Managing Director at Accenture)
Entrepreneur Award
 Farzana Baduel (Founder of Curzon PR)
Media Award
Shivvy Jervis (Head of Digital Media, Telefonica)
Professions Award
Nicky Jayesinghe, (Head of professional policy division, British Medical Association)
Public Service Award
 Daman Mullhi, (Director of PR, The UK Sepsis Trust)
Social & Humanitarian Award
Parmi Dheensa, (Executive director, Include Me TOO)
Sport Award
 Annie Zaidi (Youth engagement coach, Leicester City Football Club Community Trust)
Global Empowerment Award
Elif Shafak
Young Achiever Award
Tanya Datta (Store manager, Marks & Spencer)
Community Award
University of East London