 Finalists for Midlands Category Revealed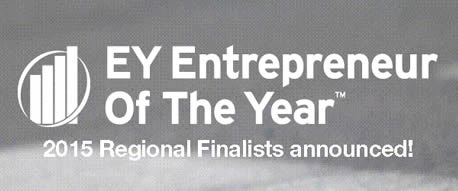 Businesses from Birmingham, Nottingham, Warwickshire, Herefordshire and Gloucestershire are represented in the 33-strong list of finalists for EY's Midlands Entrepreneur of the Year Awards 2015.
Representing a range of geographies and sectors, these 33 companies shortlisted in EY's Midlands Entrepreneur of the Year Awards 2015 turnover a combined £2.4bn of annual revenue and employ more than 24,000 people.
Leaders from these Midlands companies – which include firms in the technology, retail, manufacturing and healthcare sectors – will compete with each other at the Midlands final, to be held on 16 June at The Birmingham Town Hall. 
The Midlands winners will go on to vie for the title of EY UK Entrepreneur Of The Year 2015 and a chance to represent their country at a global awards ceremony in Monte Carlo in 2016.
The 2015 Midlands judging panel will be chaired by Sir Peter Rigby, Group Chief Executive and Chairman of Rigby Group. He will be joined by 10 other Midlands business leaders, including Wayne Martin, CEO of GCI and former Midlands Entrepreneur of the Year winner.
Adrian Roberts, Midlands Entrepreneur Of The Year Leader at EY, said, "Our 2015 finalists are all exceptional entrepreneurs, who have driven the expansion of their companies by developing strong and often differentiated propositions, through outstanding leadership. Many of them remained resilient throughout the downturn and are prospering today in the improving economy.
"Investment in technology and innovation, and domestic and international expansion are just some of the ways these entrepreneurs are growing their businesses and positioning themselves for further expansion over the years ahead.
These dynamic, fast growing companies – and the people behind them – are vital to the Midlands' national and global competitiveness, and these awards rightly recognise their success."
Stuart Watson, UK Entrepreneur Of The Year Leader said, "We need entrepreneurs now more than ever. They have been achieving success and defying the odds in times of change and upheaval, recognising opportunities to act quickly and decisively to gain market share and traction for their ideas and innovation.
"Now in its 17th year in the UK, EY's Entrepreneur Of The Year brings together dynamic business leaders of fast growth companies who are creating growth, confidence at pace and generating positive impact in their markets at home and abroad."
Midlands's finalists are:
Inderjit Deol  – Managing Director of Aidem Digital CIC (Birmingham)
Paul Massey – Product & Design Director of AKW (Worcestershire)
Anthony Killeen – Managing Director of allpay (Hereford)
John Thompson, Chris Charnley and Mark Osborne – Ambrey Risk (Hereford)
Richard Dolman – Director of AR Demolition (Warwickshire)
Graham Rummery – Chief Executive of Autoclenz Group (Derbyshire)
Mark O'Sullivan – Managing Director of BanaBay (Birmingham)
Pino De Rosa – Managing Director of Bridgeway Consulting (Nottingham)
Jonathan Dunkley – CEO of Car Shops (Northampton)
Dominic List – CEO of Comtact (Stoke on Trent)
Peter Jarvis – Managing Director of Contechs (Warwick)
Bjorn Krylander – Managing Director of Datapath (Derby)
Jane Hatton – Director of Evenbreak (Dudley)
Michael Britton – Managing Director of Goodwill Solutions (Northampton)
Iain Lister – Chief Executive of Greenray Energy Solutions (Lincoln)
Simon Ward – Chief Executive Officer of ITG (Birmingham)
Kate Phipps – CEO of John Taylor Hospice CIC (Birmingham)
Mark Payton – CEO of Mercia Technologies (Warwickshire)
Sukhi Ghuman – Chief Executive Officer of Octavian Security (Nottingham)
Wilson Barrett, and Colin McCarthy – Panther Warehousing (Northampton)
Ray Sommerville – CEO of Perrys Group (Northampton)
Jim McCarthy – CEO of Poundland Group (Willenhall, West Midlands)
Mark Egerton – CEO of Quotient Clinical, (Ruddington, Nottinghamshire)
Philip Salt – Chief Executive of Salts Healthcare (Birmingham)
Ravi Bains – CEO of Sevacare (UK) (Wolverhampton)
Gary Marsh – Chief Executive Officer of Solid State (Redditch)
Simon Cashmore – CEO of TCL Group (Northampton)
Ian Whiting – CEO & Founder of Titania (Worcester)
David Milner – CEO of Tyrrells Crisps (Hereford)
Tim Emrich – CEO of UK Power Reserve (Solihull)
Neill Ricketts – CEO of Versarien (Gloucestershire)
Rashpal Rai and Jaz Rai – Wellbeing Works CIC (Derby)
Helen Thomas – Managing Director of Westons Cider (Herefordshire)