 Family Pay Tribute to "Loving Son"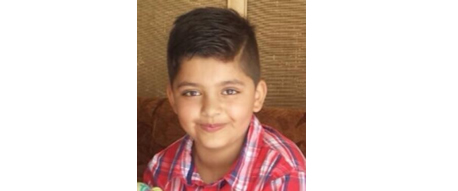 A British schoolboy has been killed in a hit and run crash in Pakistan. Bradford-based Sameer Iqbal's died after being struck by a passing car after following his uncle who has stopped to check on an overturned car ahead. The eight-year old had been visiting the country after getting a last-minute flight for a family wedding. Paying tribute, his uncle, Mehboob Alam said his death had devastated his family and friends.
Mr Alam said, "There was another man in the front of the uncle's car. He had hold of Sameer's hand trying to stop him getting out but he wanted to go with his uncle. He still had his hand when he got out but in just a couple of steps a speeding car came from behind and just took him. "It was dark, there were no street lights. They didn't know where he was. He had been thrown about 80 yards into some bushes.
His uncle found him and picked him up but when he got him back to the car there was no breath. He died in his arms."
In a heartbroken phone call, they rang Sameer's parents, Maryam and Zafer Iqbal, to break the news of his death and within hours, they were on a flight, arriving only a few hours before he was buried after the tragedy. Mr Alam, said Sameer had been desperate to go to the wedding and it had only been decided the night before he flew that he could go with his grandmother. "It was lucky at the time. He was so excited but it's tragic they got the tickets now.
"No-one could believe it when the news came. We still can't believe it today. It is so shocking. We are devastated.
"Sameer was an intelligent, smart boy. He wasn't a naughty kid. He was good at sports and good at school. He was a very good boy." Sameer had been a pupil at Farnham Primary School. Headteacher, Richard Edwards said Sameer had a "wonderful sense of humour."
"He was always kind and helpful and enjoyed everything about school. He was loved by his family and his many friends and he will be greatly missed. "
"He was always kind and helpful and enjoyed everything about school. He was loved by his family and his many friends and he will be greatly missed."