 Saturday 18 April 2015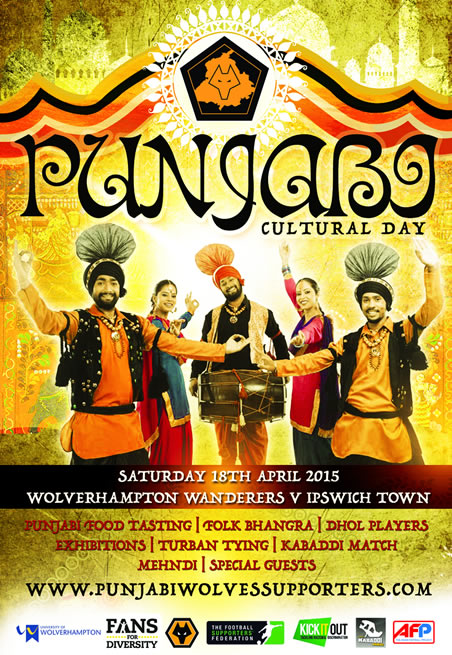 Punjabi Wolves Supporters are delighted to announce the first ever 'Punjabi Cultural Day' taking place at the Molineux Stadium, the home of our beloved Wolverhampton Wanderers Football Club, on Saturday 18 April 2015. In association with Wolverhampton Wanderers Football Club and the University of Wolverhampton, the 'Punjabi Cultural Day' is supported by Kick It Out and the Footballers Supporters Federation.
The Punjabi Wolves Supporters 'Punjabi Cultural Day' will be celebrating and highlighting all things associated with Punjabi culture – including its loyal supporters!
In the 2011 census, it emerged that Wolverhampton has the second highest percentage of Sikh residents living in England. To further highlight the passion Punjabi's have for football and namely Wolverhampton Wanderers Football Club, we have discovered the first Punjabi descent supporters that attended a WWFC match were Mr Laskar Singh and Mr Lachhman Singh who experienced their first home match back in 1954.
The highly anticipated 'Punjabi Cultural Day' is taking place on the same day as the Ipswich Town Football Club visit Molineux in a vital Championship game. We are offering all supporters of every faith to attend the game and witness our FREE exhibitions and displays and experiences:
• Punjabi food tasting
• Folk Bhangra dancers
• Dhol drum players
• Exhibitions on Punjabi and Sikh culture
• Turban tying workshops
• Kabaddi Match at half time (contact sport that originated in the Punjab region)
• Appearances from prominent Punjabi celebrities and guests
Danny Batth, vice-captain and central defender for Wolverhampton Wanderers and ambassador of Punjabi Wolves Supporters, who is also of Punjabi descent said, "I'm honoured to be the Punjabi Wolves Supporters ambassador as they have always been present throughout my career building awareness within the Asian football community."
Andy Sahota, from Punjabi Wolves Supporters, said "PWS have made a name for themselves by creating a colourful party atmosphere at grounds across the country as one of the biggest ethnic fans groups in Britain with more than 500 members from all races and backgrounds. We are honoured to be working with WWFC on hosting the first ever Cultural Day at our beloved Molineux highlighting our vibrant heritage".
PWS, are well-known at Molineux for their 'dhol' centrepiece (Indian drum) – an instrument seen at many Asian weddings and in Bollywood films. The dhol has accompanied PWS to many away games and by popular request from Wolves fans this will be first time ever the Dhol will be allowed within the Molineux at a home fixture. Be sure to join the celebration on the 18th March and for further information please visit
www.punjabiwolvesupporters.com