 Amitabh Bachchan to Attend Unveiling Ceremony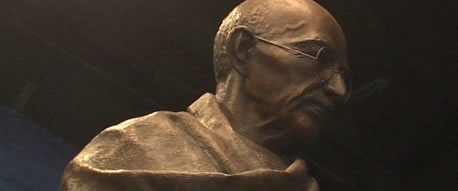 Bollywood star Amitabh Bachchan will join dignitaries and celebrities from the Government and India in a ceremony on Saturday, March 14 to unveil a statue of Mahatma Gandhi at London's Parliament Square.
The bronze statue commemorates the 100th anniversary of Gandhi's return to India from South Africa, and the non-violent movement he founded to free India of British rule.
British sculptor Philip Jackson began work on the statue in July 2014. The ceremony will also feature live music, and a speech by by Gandhi's grandson Gopalkrishna.
The unveiling ceremony in London's Parliament Square on Saturday 14 March will be open to members of the public, who will be the first to see the historic statue. The ceremony will feature personal reflections from Mahatma Gandhi's grandson, and former Governor of West Bengal, Shri Gopalkrishna Gandhi. It will also be attended by Lord and Lady Desai of the Gandhi Statue Memorial Trust.
This will be Shri Jaitley's first official visit to the UK as Finance Minister and the programme reflects the broad and deepening relationship enjoyed by India and the UK. This close partnership and co-operation between the UK and India is generating more jobs, growth and security for our two nations.
David Cameron said, "
The statue in Parliament Square not only marks his huge importance in the history of both our countries, but will enrich the firm bond of friendship between the world's oldest democracy and its largest."
Whilst Culture Secretary Sajid Javid said, "I am delighted Shri Jaitley is coming to the UK to unveil this historic statue. The UK and India have strong links and I look forward to discussing ways both our countries can further prosper by working together. The relationship we have today with India is one that Mahatma Gandhi dreamed of – as friends and equals."