 How One Rape Survivor is Challenging India's Sexual Violence Problem
The epic comic book, Priya's Shakti, which presents a new Indian hero who tackles the problem of sexual violence in India and around the world, is premiering at the Mumbai Film and Comics Convention from December 19-21, 2014. Creators Ram Devineni and Dan Goldman are presenting the innovative comic book that uses the leading augmented reality APP Blippar to make animation, videos, real-life stories, and other interactive elements to life.
Inspired by ancient mythological tales, the comic book tells the story of Priya—a mortal woman and gang-rape survivor—and the Goddess Parvati as they fight against gender-based sexual violence in India and around the world supporting the movement against patriarchy, misogyny and indifference.
Additionally, several large colorful murals from the comic book are being painted on walls throughout Mumbai. Audiences will be able to unlock special animation and movies that will pop out of the wall when they scan the murals via their smart phones.
Priya's Shakti is a recipient of a 2014 Tribeca Film Institute New Media Fund grant supported by Ford Foundation.
"Talking with several rape survivors, I realized how difficult it was for them to get justice," said Ram Devineni. "Often, they do not report crimes out of fear for their lives, or to avoid the backlash they may face from their family, authorities, and community. The burden of shame is placed on the victim and not the perpetrators.
Priya's Shakti
highlights the threat of sexual harassment and violence that women face on a daily basis unless deeply rooted patriarchal norms are challenged. Priya is a new hero for a modern India."
The project's nonprofit engagement partner is Apne Aap Women Worldwide – one of the world's leading NGOs supporting at-risk girls and women in India and the U.S. by ensuring them access to their rights and working for policy and social change.  "Partnering with Apne Aap will ensure our project will become a strategic platform to support the global movement against gender-based violence, and that our comic book will have maximum reach with youth in India, the U.S., and around the world. Through this collaboration, we are working to build a movement around Priya as a modern Indian hero within the larger global movement by creating shared cultural opportunities for education, dialogue, and social action," said Lina Srivastava, the project's social impact director.
"Stories like Priya's are in the news often these days, not just in India but in all nations and online," comments artist Dan Goldman. "With 
Priya's Shakti
 came the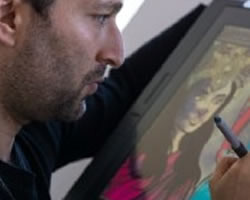 chance to put a symbolic face to this issue and enlighten all genders about sexual violence, and there's no format better suited to this than the instantly accessible medium of comics."
This project will help define the new frontier of integrating literary publications and exhibitions as well as social impact media with augmented reality technology such as Blippar. Commenting on the launch, Mr. Arnav Ghosh, Regional Director, Blippar said, "We are excited to collaborate with Priya's Shakti to introduce India's first interactive comic which brings forth burning issue of sexual violence in India. Blippar allows the book to be interactive and helps it connect with the readers by marrying the real and virtual world."
The comic book is free worldwide in every digital format and downloadable on the project's website and at ComiXology, Apple's iBooks, Amazon, and BitTorrent. The printed comics will be available at the comic book convention in Hindi and English, but eventually will be translated into other languages. Rattapallax, a literary publishing house and film production company based in New York City and New Delhi, is producing the entire project. Devineni's recent film, "The Russian Woodpecker" was selected for competition at the 2015 Sundance Film Festival.