 Stunning Photograph Wins Local Award

A magical morning caught on camera from a Handsworth house has scooped a top prize in a local photography competition.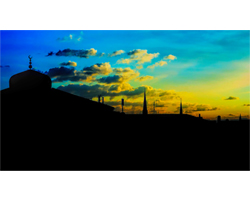 Ian Cartlidge's photo entitled 'Multi-Faith Handsworth' captures Lozells Central Mosque, New Testament Church of God, Hamstead Road Baptist Church and Villa Road Methodist Church.
The picture was selected from a wide range of entries submitted for the competition organised by the MyNeighbourhood (MyN) project – an initiative backed by Birmingham City Council to promote cohesive communities by giving them their own online space to share news, discuss issues and post events.
"I love the way it shows the diverse faith in the area and the many houses of worship" said winning photographer Ian. "Just off the right hand side of the picture is the Gurdwara Babe Ke, unfortunately I couldn't squeeze it into frame."
Lord Mayor of Birmingham, Cllr Shafique Shah awarded Ian with his prize, a tablet computer during a photography exhibition at the Library of Birmingham.
Commenting on the competition, Cllr Shah said: "The standard of entries was very high. I'm glad I didn't have to select a winner personally, but I am truly delighted that residents chose this as their favourite, a picture that represents the strengths of our neighbourhoods – our diversity."
After the award ceremony, to recognise photo contributions from younger residents, the Lord Mayor treated children from St Clare's school to a tour of the Council House.
MyNeighbourhood project manager, Fareeda Akbar, said: "Its early days in the roll-out and use of the MyNeighbourhood website, but its inspiring to see community centres, coffee morning groups and charities, signing up and using this free resource.
"The multi-faith Handsworth photo is the perfect picture to front the neighbourhood site."