 Thursday 5 – Friday 6 February 2015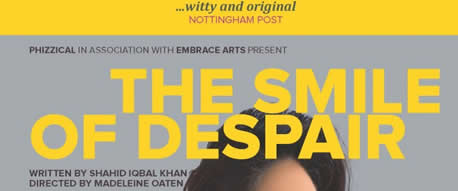 Embrace Arts at Richard Attenborough centre
Lancaster Road, Leicester LE1 7HA

Tickets £10, £6 (concessions), £5 (NUS)

Box office: 0116 252 2455

RNID Typetalk service: 18001 0116 252 2455
www.embracearts.co.uk

 

Written by Shahid Iqbal Khan

Directed by Madeleine Oaten

Cast Subika Anwar, Avita Jay, Omar Khan

 

Phizzical present The Smile of Despair, a slice of life play by Shahid Iqbal Khan that unearths the hidden anxieties of a modern British-Muslim family. This new writing is part of the Leicester Comedy Festival and tackles serious subjects surrounding marriage, sibling rivalry and religion with a strong measure of dark humour.

 

Naqid is hiding a secret from his wife Mubina that he has lost his employment.  Mubina is hiding an even bigger secret surrounding their planned parenthood. Caught in between this family feud is Aida, Mubina's hard of hearing younger sister, who longs for male attention. Tensions begin to fray as Aida gets on like a house on fire with Naqid, much to the disapproval of Mubina.  The smiles soon turn to despair as their inner most thoughts have to be spoken. How do you deal with being lied to, or worse, being told the truth?

 

"This play is about a clash of attitudes. Within the set-up of a British Pakistani family, these different attitudes have remained under the surface for years, in order to maintain the peace. But life events force these characters to confront and be open about their honest feelings- if not to others, then at least to themselves", says the play's writer, Shahid Iqbal Khan.

 

"Although the play is set within the complexities of a British-Pakistani family, there are several underlying themes that anyone from any cultural background will be able to relate to, or at least recognise", says Madeleine Oaten, the play's director. She adds, "behind the exterior of these characters are very lonely individuals, who due to unresolved issues of their own, lack communication with family members and suffer further isolation and loss. This is a wonderful opportunity for me to bring to life a brand new piece of writing, encompassing so many real and relevant issues."

 

"Shahid Iqbal Khan is a talented emerging writer who has captured a personal and hidden story about the stigma of disability and abortion. Powerful stories like this need to be told to all audiences to highlight and understand the wider cultural perspective, especially when they are told with humour and compassion", says Samir Bhamra, the artistic director of Phizzical Productions.

 

Shahid Iqbal Khan is grateful for the support from Arts Council England, Embrace Arts, Hitz Rao Photography and Phlik Hair and Makeup to enable him to make The Smile of Despair.
FOR MORE INFO: https://uk.patronbase.com/_EmbraceArts/Productions/W401/Performances