 Current Fashion Trends Straight From India

If you're a fashion lover like me, you would like to know the latest Asian fashion trends – what we should be wearing, watching out for or even buying. If you're not sure not to worry that is where The Asian Today comes in.
Wills Lifestyle Indian Fashion Week took place in October and it was the perfect chance to check out current fashion trends straight from India. It wasn't easy but we selected our top 3 favourite collections from this year's Wills Lifestyle;


Payal Singhal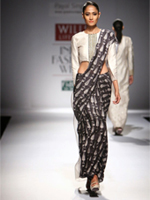 Payal Singhal has to be one of the most talked about designer collections at every fashion show she showcases. And she didn't let us down in yet another enticing collection.
Payal Singhal's collection featured timeless Asian inspired pieces such as, shimmery, gold and cream sarees, lenghas and blazer jackets sprinkled with delicate embellished beaded embroidery. It's not only classy but practical fashion. In addition, l was astonished to see an Asian designer featuring various styles for all the different types of women and personalities – ultimately that's what makes her different to most Asian designers. For example, you can see the business woman, the sophisticated sister, traditional Indian fashion lover, the modest young lady to the modern chic fashionable girl.
Payal Singhal gives everyday South Asian fashion a new vision, movement and it's truly inspiring. 
Rohit Bal
This next designer has won numerous awards for his contributions to fashion in India and with his Wills Lifestyle collection you can clearly see why.
Rohit Bal's exquisite collection reminded me of the classic Indian princess in the times of the Taj Mahal. We saw fashion combinations we wouldn't necessarily see on an eastern runway but the Indian designer thought outside of the box and supriased us. For example, Rohit Bal's collection featured peplum tops and jackets matched with lenghas. Also usual mixes like capes with sarees, long elegant draped dupattas matched with flamboyant gowns and blazers on anarkali suits.
It's as if the Indian designer took the best of west (design trends) and east (embroidery work) and conjured up royal masterpieces.
You can tell each piece was thought-out – you can't just put peplum with a lengha and expect it to look show stopping but Rohit Bal does it brilliantly.


Rabani Rakah
Where would we be without some dazzling Indian party wear?
Rabani Rakah used more traditional fabrics such as, organza which we are currently used to seeing in the Asian fashion outlets. Whereas by using neutral colours such as, creams and peaches combined with gold boarders Rabani Rakah transform the fabric into luxury fashion. I particularly admired the delicate detailing intricately placed and executed perfectly on each saree, lengha or gown.
The combination of layers, fabrics and various elements to tailor the clothing must have been a nightmare for the designers. And if anyone can pull it off in style, its South Asian fashion designers.
Rabani Rakah shows us lots of hard work and attention to detail is the way forward in Asian fashion.
All the designers have a something in common – that 'WOW' factor! And that's what we all need in our wardrobes.
By Sarah Khan – www.sarakblog.com