 Beat Malala Yousafzai and Zayn Malik
Current Secretary of Culture and Member of Parliament for Bromsgrove, Sajid Javid has been named as the most powerful Asian in the UK.
The 44-year-old beat activist Malala Yousafzai and singing sensation Zayn Malik to top the 2014 GG2 Power List 101 after judges  declared he had "opened the cultural doors for all Britons in the UK". David Cameron, said he was "extremely proud" of Javid and said he hoped Britain would have an Asian Prime Minister in the future.
"Let us think big about what Britons of all backgrounds can achieve," said Cameron.
"When I hear 'sir', 'your honour' or 'right honourable', I want them to be followed by a British Asian name. One day I want to hear that title 'Prime Minister' followed by a British Asian name."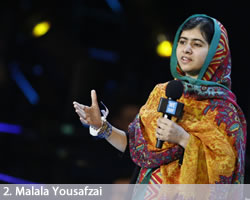 Javid pushed Malala Yousafzai to second place after she came first on the list last year. The activist was named the winner of the Nobel Peace Prize, the youngest to do so. 
"Culture is more than a privilege," said Javid. "It's at the core of who we are and how we define ourselves.
"If you're not engaged with our cultural life, you're not engaged with our national life. And in 2014, too many Britons are culturally disenfranchised."
Labour MP and Chairman of the Home Affairs Select Committee Keith Vaz came third – the government's longest-serving Asian MP.
One Direction's Zayn Malik ranked in tenth position.
1. Sajid Javid MP
2. Malala Yousafzai
3. Keith Vaz MP
4. Lakshmi Mittal
5. GP & SP Hinduja
6. Priti Patel MP
7. Sadiq Khan MP
8. Rakesh Kapoor
9. Shailesh Vara MP
10. Zayn Malik