 Ex Indian Captain Speaks of His Fond Memories of Touring Pakistan

For years, India was a team that underachieved perhaps owing to a lack of belief in their ability. One man changed it all and turned the perennial underachievers into a force to be reckoned with. Sourav Ganguly was the man responsible for Indian cricket's remarkable turnaround in the first few years of the 21st century. Few Indian captains, before him or since, have led the team as successfully, home and away as Ganguly did and fewer still have been as successful against arch rivals Pakistan. It was under his captaincy that India began to be recognized as a major force away from India.

His exploits as a batsman are often overlooked due to his success as captain and the presence of several world class batsmen in the sides that he batted in, but Ganguly as a batsman alone is one of the bona fide greats of the game. 7,212 Test runs and 11,363 ODI runs at averages in excess of 40, to go with 16 Test hundreds and 22 ODI hundreds over a career spanning 113 Tests and 311 ODIs is testament to his class purely as a batsman. Together with Sachin Tendulkar, Rahul Dravid and VVS Laxman, Ganguly was part of the 'fabulous four' of Indian batting who dominated attacks all over the world for well over a decade.

Ganguly spoke of his fond memories of touring Pakistan, India's chances at next year's World Cup, Pakistan's batting problems, Virat Kohli's recent struggles and what makes the India versus Pakistan cricketing rivalry so special.
Let's start with Virat Kohli and his struggles against the English bowling attack this summer. What do you put that down to?
I think it's just one of those series where he hasn't played well. These things do happen but make no mistake, he's a quality player, he's a very good player and he'll be back. Yes, he's struggled, but as I have said, it's happened to the best and he is no exception.

Why do you think he has struggled though? Is it just a phase he's going through or are there any technical issues that you've seen creep into his batting?


It's a phase but credit to Jimmy Anderson who has bowled well to him as well. We know that he's already got runs in South Africa, Australia and New Zealand. He has done it all before and it's not that he's been failing elsewhere as well. It was just one of those tours. He will bounce back in a big way as he's definitely India's future.

There's a lot of discussion about captaincy at the moment. It appears that Alastair Cook's future as one day captain may be uncertain and there were also a lot of rumours about Misbah-ul-Haq being replaced as Pakistan captain in the one dayers, which have now been laid to rest. When do you think the time is right for Virat to take over as captain, after Dhoni?


I don't think you can look it in that way, it's not really that simple. I don't think there's anything called 'the time is right' when we talk about such issues. It really depends on what the selectors are thinking and what they want and their vision of the future, but I really don't see any change happening till at least next year's World Cup and that's how it should be.

You featured in many great India versus Pakistan encounters. As a player what was it like playing in those matches? ?


It was a fabulous and unforgettable feeling, almost indescribable playing against Pakistan! I feel that in some aspects, India versus Pakistan matches are even bigger than The Ashes. Unfortunately, certain unforeseen events have stopped these games from taking place, but hopefully peace will prevail and we can play again and create more such wonderful memories.

What's the special thing about India vs Pakistan, what makes it stand out?

It's a variety of factors. To start with, it's the quality of players and then most importantly, it's the sheer quality of the cricket played in a highly competitive atmosphere. Both the countries have produced some great players in the past and continue to do so but make no mistake, they are friends who are fighting on the field to win cricket matches.


To be honest, it's really down to the quality of the players involved which makes these games so special. The absence of these games at the international level is hurting the game and I do hope these issues get sorted out as soon as possible and the two great sporting rivals can recommence their rivalry.

PakPassion.net: Any special memories that stand out from your encounters with Pakistan?                                       

There are so many to choose from such as the Sahara Cup in Toronto in 1997. However, my best memory was going to Pakistan in 2004. We went there after many years and won the Test and ODI series. That really was a fantastic tour and we really enjoyed visiting and discovering Pakistan. We obviously played well but we also enjoyed the red-carpet welcome and the hospitality from everyone. In fact, I was just talking to Wasim Akram the other day about this tour and discussing how fabulous it was touring Pakistan.
What are your thoughts on Ian Botham's comments about the IPL and that 'it should be abolished'? How important do you feel the IPL is for the improvement of Indian cricketers?

The fact is that the IPL gives a lot of exposure to Indian players to the top level players who are also taking part in the tournament. There are a lot of first class players who may never get to play for India but are able to play against the best players in the game and learn from them as opponents or as team-mates. This really is an important factor in the improvement of their game and can only be a good thing for Indian cricket going forward.
And what about Pakistan, they recently lost to Sri Lanka in Sri Lanka which is always a tough place to go to but it seems like some of those young cricketers, the likes of Umar Akmal aren't kicking on in the same way that Virat has done so successfully for India?

Yes, I am very surprised as we all know that Pakistan has always produced good talent. During my playing career, I've played against some high class cricketers such as Saeed Anwar, Inzamam-ul-Haq and Mohammad Yousuf along with some other top class players such as Wasim Akram, Waqar Younis and Saqlain Mushtaq.

Pakistan have always produced some top class players and to see them not producing similar class of players at the present moment is really disheartening and puzzling. Once again though, I feel that this is just a phase that every country goes through where players struggle but they'll be back again soon I think.
What would you put this phase down to? The Pakistan batsmen seem to be playing reckless shots for no apparent reason again and again?

That's exactly what I have said before. Sometimes it does happen when countries goes through a phase where they don't get enough quality players coming though. However, the good news is that this phase goes away in two or three years time and you're back to getting the best talent once again.


Every country goes through it. Australia went through that sort of phase and the West Indies seem to be going through this now, although this phase seems to have gone on too long for them. This will also take a little bit of time for Pakistan but I sincerely hope that with the level of interest in the game that exists today in Pakistan they will start producing quality players once again.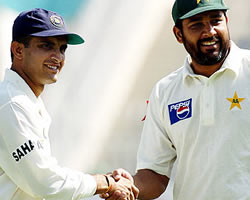 The World Cup is just months away. Is India likely to retain their title?

  As we have seen this summer, India will always be a very good one day side. They'll always be contenders for the top spot.    However, it does depend on how they cope with the surfaces in Australia and New Zealand, particularly their batsmen.

Don't forget that there are a lot of other good teams such as Australia and South Africa, along with Sri Lanka and England, who in those conditions will present stiff competition to any team. The fact is that there are very little differences between the top teams in the modern day. Australia were the stand out team not so long ago but at the present moment the difference in the major teams is not that much and any one of the teams that I have mentioned could win the World Cup in my opinion.
We've seen Ravi Shastri go from the commentary box to the Indian dressing room. Do you see yourself eventually moving away from the commentary box and perhaps doing something different in cricket?

 Definitely. I do want to apply my experience and knowledge to an international or domestic level coaching role in the future. However, as always, it all depends on the opportunities one gets in life, so let's see, but coaching is definitely something that I would love to do at some point in the future.